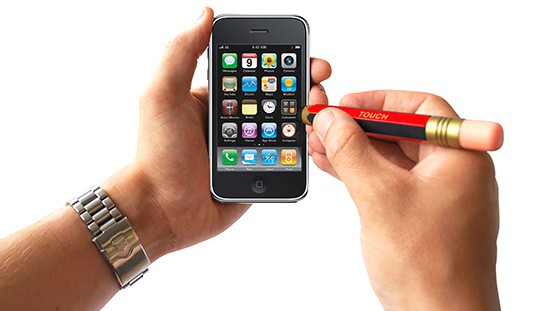 (image credit: Suck UK) Suck UK Touch-screen Stylus | £7.50 | www.suck.uk.com
old-school lover? love stylus? well, just whip out this stylus with electro-conductive rubber in the form of an old-school pencil that you used to scribble or doodles on your classroom desk, i mean notepad while your elementary school teacher was babbling away. i was never a fan of stylus, which is probably why i embrace the capacitive touch screen so much but the touch-screen stylus from Suck UK is too 'comically' cute (it's fat, alright?) to give it a pass. at least, worthy a post. the best part is, it works with both capacitive and resistive touch screens, therefore it will works on iOS and Androids devices, and even credit card swiping machine. i heard someone asking about the eraser… no, the eraser is purely for aesthetic purpose.
just imagine grabbing hold of your bud's touch screen device and starts scribbling with the touch screen pencil which is going to give him a shock of his life. just make sure you have the correct pencil and not the real pencil, else it will turn into a really unpleasant scenario. don't say we didn't warn you. touch-screen stylus retails for £7.50 and it's available via Suck UK online store.