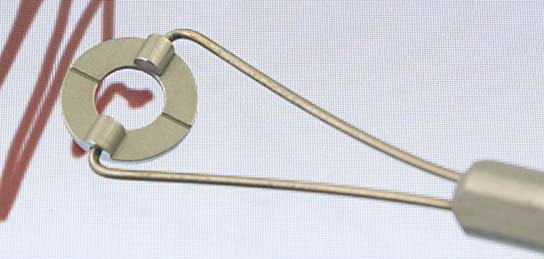 oStylus Capacitive Touchscreen Stylus | US$37.50 | ostylus.com
we brought attention to the stylish stylus, the Just Mobile AluPen last week. here's any stylish yet odd-looking stylus from oStylus. unlike traditional stylus, the oStylus has a ring tip instead of your normal rubber head.
so what's with the ring tip? here's the logic: our finger, or any other stylus out in the market, tends to block the screen. with the ring tip, it allows you to see the lines and colors that you are drawing. through the ring, of course. as an avid doodler on iPad, i fully comprehend the logic. especially when i was trying to draw fine lines.
the ring is hinged, so it swivels ensure flat contact at any angle. to be honest, when i first saw this product. i was like 'metal for a stylus tip? that can't be right' but my worry was put to rest when i realized that there's a vinyl at the bottom of the ring. if you ask me, i'd think i will be putting my touchscreen at risk for putting a metal that near to it.
good things don't come cheap these days – or any other day. the oStylus retails at US$37.50. well, considerably cheap if you compared to it's original version which is cost US$70. wow. the original version is available upon request.


(image source: ostylus.com)
via DVICE