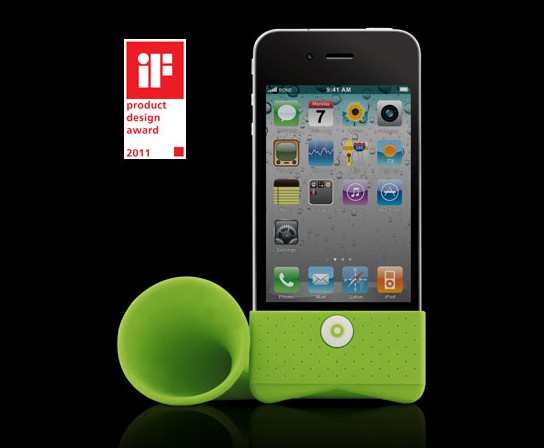 (image credit: Bone Collection) Bone Collection Horn Stand | US$24.95 | www.fruitshop.com.tw
before i proceed, i must clarify that i do not have an obsession with horns. just yesterday, we posted a non-powered amplification speaker from ARK, and now we stumbled across yet another similar item from Bone Collection – dubbed the Horn Stand. the amplification principle for the Horn Stand remains the same as the ARK's item but the Bone Collection's item is little more compact in terms of size (the horn is noticeable shorter). made from silicone, the horn resembles the olden time hearing aid but with a slip-on case which covers the whole of the iPhone 4's bottom including the HOME button.
as the name suggest, the Horn Stand also doubles as a stand for your iPhone for both landscape and portrait orientations. an opening is also included to allow charging or syncing of your iPhone without having to remove the Horn Stand. Bone Collection Horn Stand is touted to be "washable, dirt and scratch resistant." huh? scratch resistant are common words these days but how it really performs is altogether another matter. the Horn Stand is available in four colors and retails for $24.95.