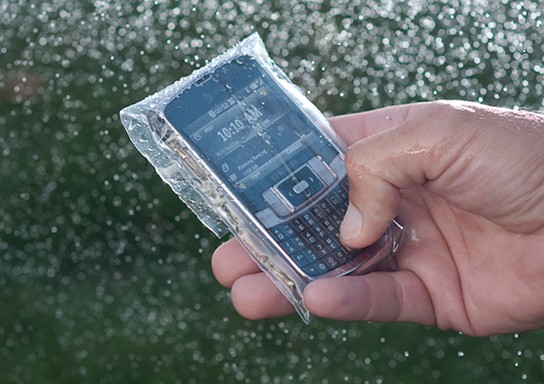 (photo credit: cleverwraps.com) CleverWraps RingerWraps | US$9.99 | www.cleverwraps.com
mobile phones are susceptible to element like water, perspiration, snow, sand et cetera the list just goes on. these guys over at CleverWraps developed a Zip-Loc type bag specifically to protect your precious communication devices. in a nutshell, RingerWraps are downsized Zip-Loc bag complete with zip closure and re-sealable tape.
RingerWraps come in three sizes: small, medium and large, catering to different phone sizes. slip in your mobile, zip it and tape it and your mobile shall be protected from the nasty elements. CleverWraps promise that users will still be able to dial, talk, text, browse and listen to your favorite tunes while the phone is sealed in the RingerWraps.
some heads up of the RingerWraps sizing: small size caters to bar phones or devices (also known as candy bar phones/devices) such as iPhone, Blackberry, iPod Touch and iPod Classic; medium size caters to vertical flip and slide phones and; larger size caters to horizontal flip and slide phones, and also extra large smart phones.
since the mobile phones these days are similar in size, we would think that the sizes available should cover most devices. with your device securely in the RingerWraps, you can now go jet-skiing, slope skiing or hit the beach without the worry of getting your device wet and the best part: not missing a single call or text message. we just don't have any clue how you're going to answer your phone while skiing down the alps. not that we recommend anyone to do so.
via CNET