in the past, smartphone is associated to personal organization, replacing the once trusty Filofax, but now, with the appropriate hardware and app, it could even save lives too. the AliveCor Heart Monitor For Mobile Devices is one such example. unveiled earlier this year, the device has recently been cleared by U.S. Food and Drug Administration (FDA) for its algorithm to detect atrial fibrillation (AFib), the most common form of cardiac arrhythmia. the heart monitor is integrated to an iPhone 5/5s case (referred to as iPhone 5/5s Heart Monitor Case) and also as a standalone monitor with universal attachment plate for use with Android devices.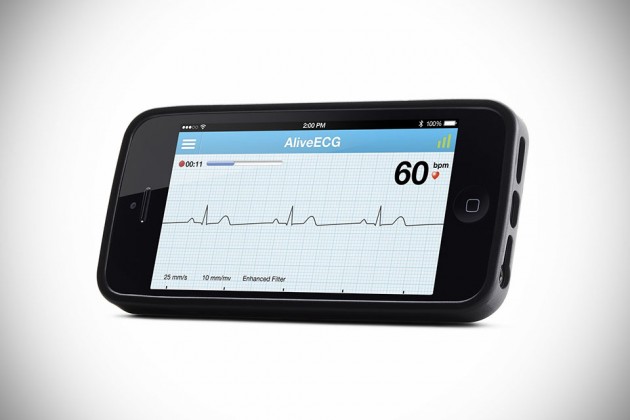 when attached to your device, Android or iOS, and rest on your fingers or chest, the heart monitor will record your electrocardiogram (ECG) and transmit the info to your smartphone via an ultrasonic signal which is picked up by your device's microphone. by not using Bluetooth, it saves power and also saves the hassle of pairing. the heart monitor is powered by a 3V coin cell battery, which is good for around 10,000, 30-second ECGs before needing replacement. primarily, the AliveCor Heart Monitor is designed to record and display ECG rhythms through a companion app, and detects the presence of atrial fibrillation. these info can then be uploaded to AliveCor's secure servers via the app where you can access anytime, anywhere and even grant access to your physicians, or email them to health professionals.
the fact that ECG can be measured and accessed as and when you wanted is absolutely brilliant, considering that a lot things can happen in between scheduled checkups which could be as far apart as a year. of course, the AliveCor Heart Monitor is by no means a substitute to your doctor. your specialist attending to you is always your first line of defense, so to speak, and the AliveCor Heart Monitor is merely a supplement to that effort, so you and your doc can keep a close tab on your heart condition and take actions or measures if necessary. also, it is not only geared towards heart patients; anyone health conscious individuals can also use it, however, at $199 a pop, the latter group will unlikely take the plunge.