I think I may not be able to write much because, I may be too excited. Now, the thing is, I am not usually thrilled by Peugeot automobiles, but here we have are two rides that managed to tickle my fancy somewhat. The first is an all-new, and may we say, radical, sedan designated Peugeot 508 and the other, a MPV-ish Sports Utility Vehicle (that's what Peugeot is referring to as, btw) that took on a name that's a departure to the French automaker's naming norm and it is called Peugeot Rifter. Oh man. I don't even know where to begin. Lets start with the 508, shall we?
2018 Peugeot 508 Sedan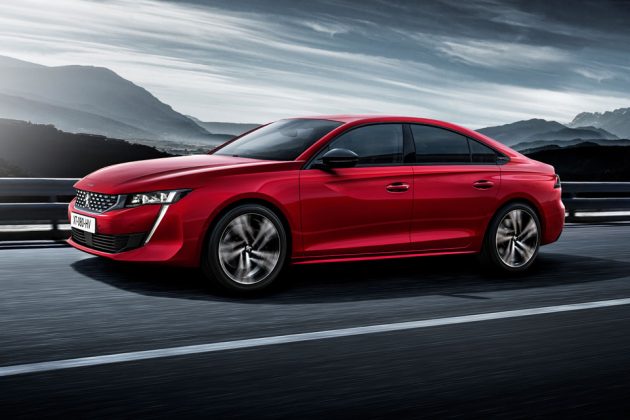 At a glance, the 508 sports an unmistakable coupe look with its wide stance and low height, and it has everything that are hallmarks of luxury sedans. Peugeot is never known for luxury, but with the 508, that is going to change. Expect materials that are closely associated to luxury, including the likes of full grain or Nappa leather, satin chrome, black lacquer, Alcantara, and authentic wood, to grace the cabin. Plus, there will be an array of equipment and driving aids, starting with meeting EuroNCAP criteria, in addition to Night Vision system, Lane Positioning Assist, latest-generation Active Safety Brake, Driver Attention Alert – just to name a few.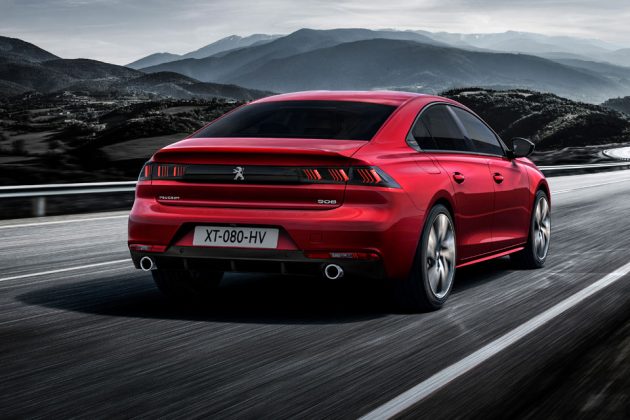 As for drivetrain, the Peugeot 508 benefits from the new-generation Euro 6.c PureTech and Blue HDi engines that promised best-in-class CO2 emission levels. Speaking of engines, there two new petrol options based on the 1.6L PureTech engine, namely, PureTech 180 S&S EAT8 and the range-topper, PureTech 225 S&S EAT8. There are also four 1.5L and 2.0L BlueHDi engines diesel options to choose from and these include the BlueHDi 130 S&S 6-speed manual (the one and only in the range, btw), Blue HDi 130 S&S EAT8, BlueHDi 160 S&S EAT8 and BlueHDi 180 S&S EAT8. Ah oh, there is, of course, Peugeot's pet, the i-Cockpit.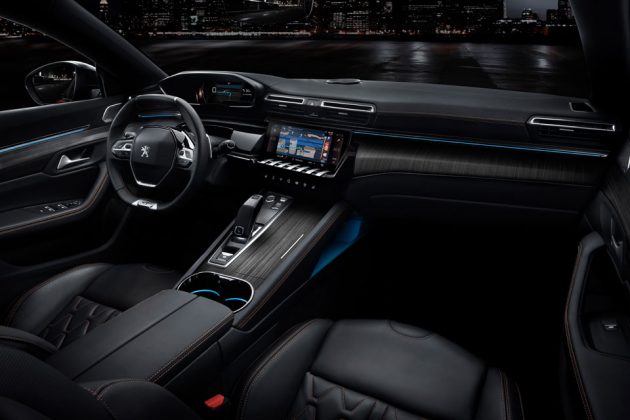 The new Peugeot 508 will be rolled out from the automaker's Mulhouse plant in France with the French sites of Trémery and Douvrin providing the powertrain, and thus, it will bear the "Origine France Garantie" that certified it as made in France. The new Peugeot 508 will be its debut at 2018 Geneva Motor Show, after which it will go on sale worldwide starting September 2018.
2018 Peugeot Rifter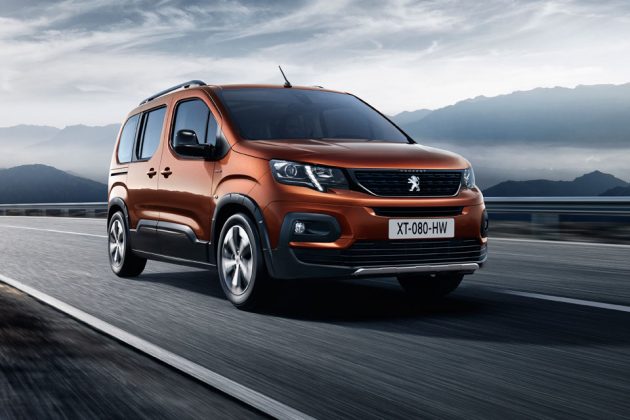 On the first look, the Peugeot Rifter looks more like a van than anything else. Despite so, Peugeot said the Rifter is built for adventure and to prove its point, the French automaker even came out a Peugeot Rifter 4×4 Concept (see below). Even so, you shouldn't mistaken it for a Land Rover. Anywho, it is built on a new platform and available in two lengths: 5 or 7 seats. Powertrain is available in both petrol and diesel variety with the petrol option getting two versions based on the 1.2 PureTech motor, and the Diesel option, three 1.5 BlueHDi engines.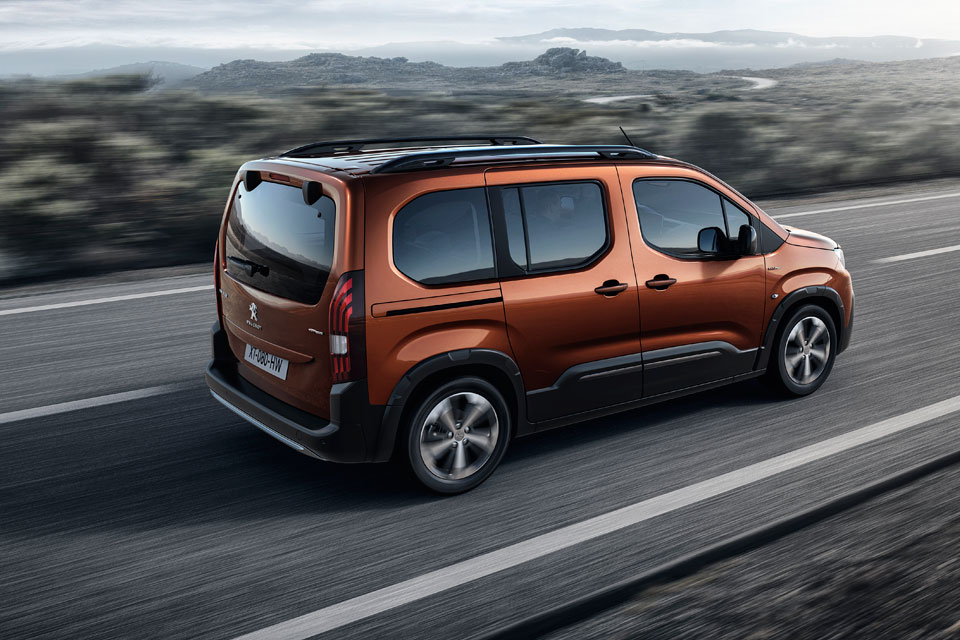 For stick shift enthusiasts, you'd be glad to know that PureTech 110ch S&S is paired to a 5-speed manual gearbox and all Diesel variants are pair to manual gearbox, with the BlueHDi 130ch S&S getting an extra gear through a 6-speed transmission. The 130ch also gets the option of going auto with an 8-speed automatic gearbox like its petrol counterpart, the PureTech 130ch S&S.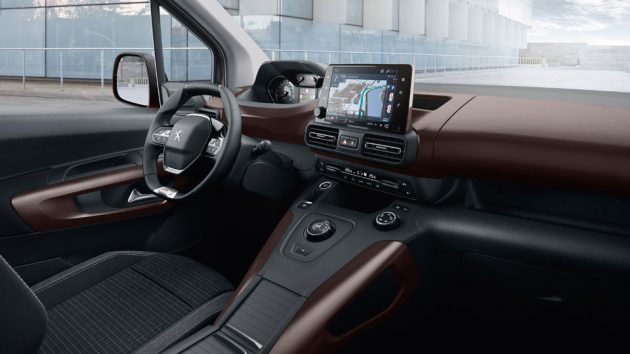 Other features include Peugeot's i-Cockpit (compact steering wheel, 8-inch touchscreen, HUD), 17-inch "Aoraki" diamond-cut alloys on GT Line version, LED signature lighting inside headlamps, integrated roof bars, a large tailgate with opening rear window, Peugeot-style three-claw marks on rear lamps, high ride height, Pseudo MacPherson front suspension, rear suspension with a deformable cross beam, option for 4-wheel drive developed by DANGEL, 775 to a whopping 4,000 liters (205-1,057 gallons!) loading capacity, "Bag In Roof" type front passenger airbag, LED ambient lighting, slide side doors, and Zenith sunroof consealable via an electric blind.
The 2018 Peugeot Rifter will be make its world debut at the 2018 Geneva Motor Show. Following that, it will be available worldwide starting September 2018.
2018 Peugeot Rifter 4×4 Concept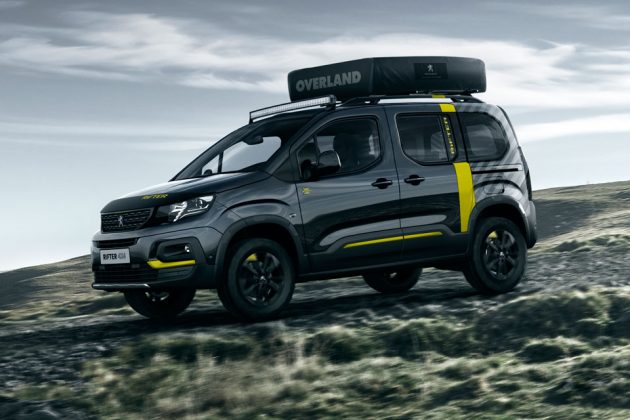 The 2018 Peugeot Rifter 4×4 Concept is Peugeot's way of showing how you can best utilize (or trick out) the soon-to-be-available Peugeot Rifter. Outfitted with Autohome Overland roof tent, DANGEL 4-wheel drive with three modes of drive, 16-inch wheels wrapped in BF Goodrich all-terrain rubbers, yellow front fog lights, a 300W curved 100 LED lights strip, and sporting a high ride height of 80 mm and loaded with an all-new electric mountain bike, the Peugeot eM02 FS Powertube, the 2018 Peugeot Rifter 4×4 Concept beckons you to take on to the road less traveled.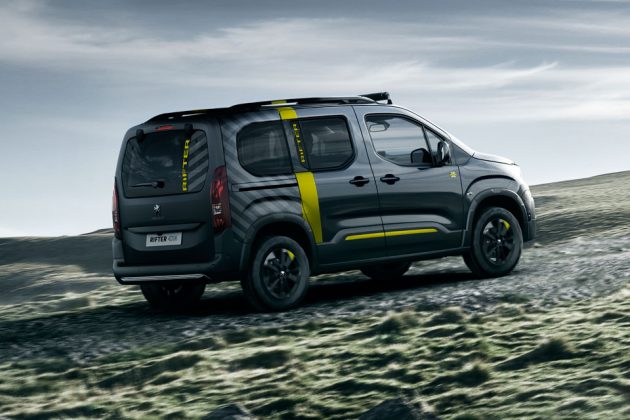 On the inside, it gets Rifter branded seats in grey textile with black Alcantara, i-Cockpit steering wheel wrapped in stitched leather, satin grey dashboard accented with smoked chrome strips, and solid machined aluminum inserts on console and door panels. But really, who cares about the inside when it look so crazy cool, right? Unfortunately, the 2018 Peugeot Rifter 4×4 Concept is just a showcar that you can buy outright, but the good news is, you can trick out your future Rifter like so and that itself is a pretty exciting notion. At least, it is to me.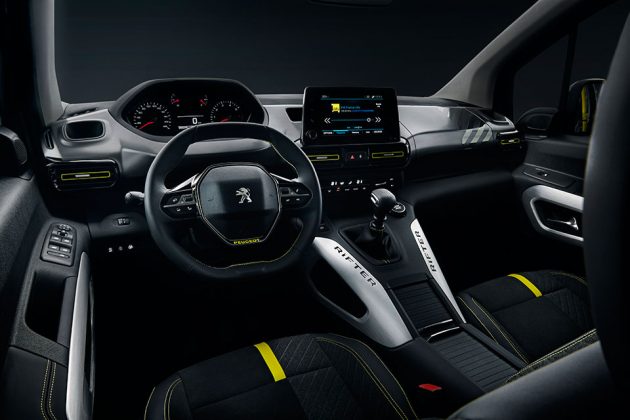 All images courtesy of Peugeot.