If you have not been catching the on-going Winter Olympics over at Pyeongchang, South Korea, you probably have not noticed something rather unusual about the Team USA's Speed Skating outfit. I know I sure did not pay attention to it, but thanks to the Internet, I cannot unseen what I have saw. The two-tone outfit has sparked quite some reaction, particularly of disgust, because, the skin-tight apparel features a light colored patch on the crotch area which appears to be highlighting the athletes' inner thigh and if that's isn't weird enough, the outfit also sports a tiny black patch in the said area which seems to point to the athlete's genitalia area. Absolutely weird.
Here's a closer look: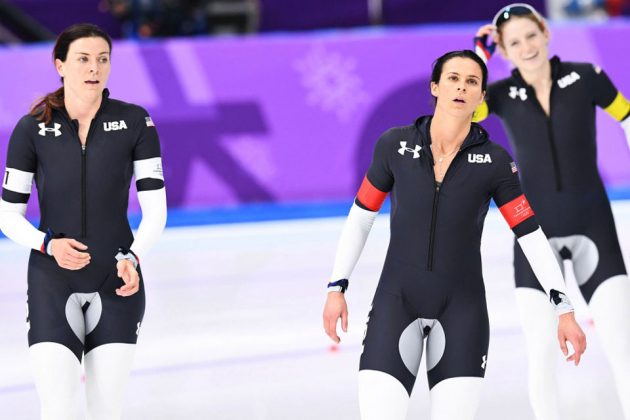 Needless to say, the Internet, in particular, Twitter, threw their hands in disbelieve. OK. I am not going to lie. Me too have gasp in disbelieve when first saw it. All I can say is, the outfit is absolutely tasteless. I do not care if it serves to reduce friction. I am sure there are similar materials that will serve the same purpose while not looking like they are highlighting the thigh gap/crotch area and seriously, what's up with the black "bullseye"? Anyways, the performance uniform is the brainchild of Maryland-based American garment company Under Armour who explained the rationale behind the design as "to reduce friction."
Like I have said earlier, I am sure there are other materials that reduce friction that are not light colored or this contrasting. Unless you are telling me color is a contributing factor to friction? Pfff. This has gotta be the weirdest thing we have seen in the sports world today. Notwithstanding the furor caused by the uniform, the U.S. women's speed skating team went on to win the first medal in 16 years. The last Olympic women's speed skating medal was bagged by Jennifer Rodriguez in 2002, in the 1,500m event. OK. Maybe the uniform does work? Anywho, when it comes to 'pervy' outfit, I think the Norwegian men's outfit isn't far behind. Don't believe? Here, have a look: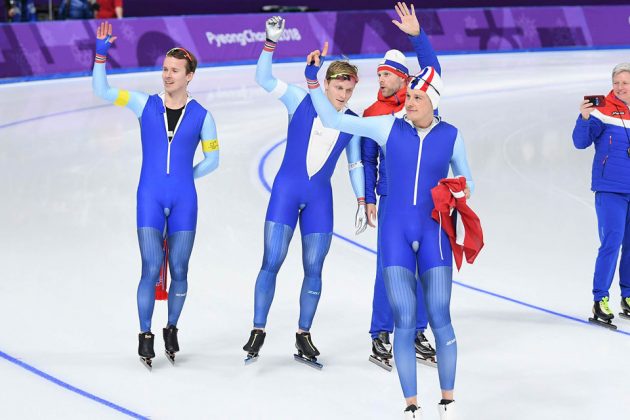 Also, this isn't the first time the Internet (Twitter, mostly, really) went into a melt down because of athletes' outfit. Back in 2014, the Colombia's women cycling team made the news with their "nude" outfit they wore to compete in the elite women's Giro della Toscana in Italy.
Images: AFP via New York Post.
Additional image via Fox News.
via New York Post.