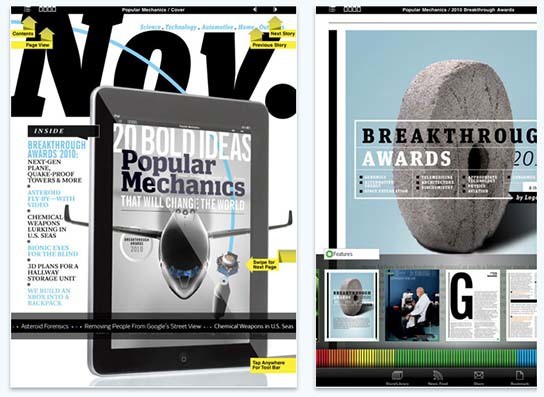 Popular Mechanics Interactive | App (Free) / US$3.99 per issue | www.popularmechanics.com
Popular Mechanics is probably THE magazine for every geeks and tech-heads. the pilot issue on iPad, introduced in Summer 2010, served as a test-bed for it's final released this October on the Apple Appstore. Popular Mechanics gathered readers' opinion and suggestion (based on the pilot issue) and finally, released this monthly e-zine.
being a reader of the Popular Mechanics Interactive – Pilot Issue reader on iPad, i must say i was rather impressed and excited at the same time. one of the key features of e-zine is the power to create interactive media, instead of the traditional static print pages. even ads can be interactive, which, in commercial stand-point, is an added selling point. empowered with interactivity, the magazine can now show animation of, example, the cause of earthquake.
Basically, PM is being delivered inside a shell app, which you can download for free. Inside are a Library for storing issues you own, and a store for you to buy new issues. as an added bonus, there's also a News Feed (free!) department. we already seen several publishers using shell app, such as the How Stuff Works e-magazine. shell app allows users to organize multiple issues into a single app, instead of scattering individual icons all over the iPad desktop.
i have read a few other e-zine on iPad but so far, only PM integrates more interactive media within. personally, i thought it is pretty much useless to go on electronic version if publisher don't harness the 'power' of electronic applications. if i were to read static pages, i might as well buy hard copy of the magazine.
Popular Mechanics Interactive is now available at the Apple Appstore.