As if the Panamera isn't luxurious enough, Porsche Exclusive has lent its hands to do it up in limited numbers for those who demanded a little more out of this four-door performance car the Stuttgart folks has to offer. Dubbed Porsche Panamera Executive Exclusive Turbo S, this limited edition Panamera has a name as long as its wheelbase, which happens to boast a good 150mm longer wheelbase over the standard Turbo S which it is based on. Only 100 units will be made, this Porsche Exclusive-touched Panamera is dressed in a unique two-color paint job, a first for Porsche, consisting of jet black metallic as the background and chestnut brown metallic hue on the small section starting under the door handles and fading out to the rear.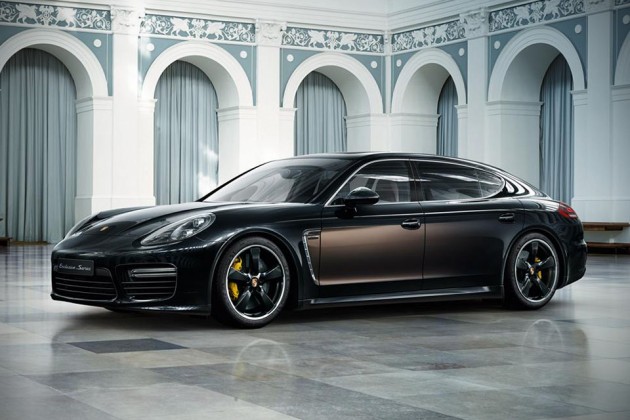 Porsche said that this unique two-tone paint work was manually painted on, which we assume it meant to say manually sprayed on as opposed to robot sprayed. There's no way brush-based paint job is going to cut it, and hence our assumption. Anyways, we're just saying. It rolls on enormous 20-inch Sport Classic wheels, which are also treated with the same chic, jet black metallic hue. Traditional palette is also being offered, but why would you pay a tidy $253,900 or more for a ride that looks pretty much 'ordinary'? Having said that, apart from having a stretched wheelbase, what goes under the hood is pretty much the same 4.8-liter twin turbo V8 petrol unit that pumps out 570 horsepower and turns out up to 590 lb-ft of torque.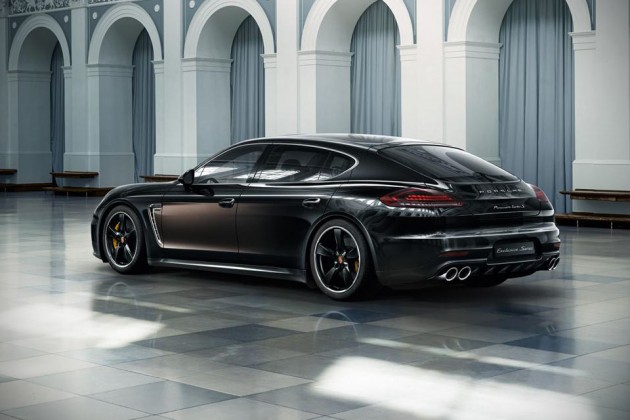 So, technically speaking, the differentiation between this and the 'lesser' models are relegated to cosmetics and equipment level which are mainly found on the inside, starting with the beautiful Poltrona Frau leather with an Agatha Chestnut Brown hue for the seats and lower door panels. The seats are perforated for ventilation, albeit only on the center panels, and with the design of the Porsche crest. The latter is exclusive to the Panamera Executive Exclusive Turbo S. More leather by the way of black milled Nappa leather can be found on the upper door trim, while the rest of the leathered area are in chestnut brown, mimicking the exterior two-tone paint job.
A newly developed rear seat entertainment is also incorporated into this exclusive edition. It consists of two 10.1-inch touchscreens with built in camera and integrated DVD fitted to the back of the front seats. Audio output is spit out through Burmester high-end surround sound system, or you could enjoy the audio privately via wireless headphones. Final touches include an interior plague with limited edition number as a reminder to whoever"s inside that this ain't your typical Turbo S and for everyone outside the car, handmade badges found just behind the front air intakes, serve as a subtle reminder where this car originated from.
If you have some spare change after putting down over $250,000 for one (which is available for order now, btw), you might also be interested in picking up a matching, made-to-measure Poltrona Frau luggage set, comprising of two trolleys, two weekender bags and a beauty case in Chestnut brown and boosting the crest perforation found on the seats, too.