(photo source: firebox.com)
i cannot imagine there's still room for improvement for basic stuff such a screwdriver – until i saw this. this isn't exactly new to the market but i am sure many have not heard of this either. it's called the Autoloader Screwdriver which has a patented pump-action bit change mechanism to get your screwdriver bit lock & loaded. 'operation' of the screwdriver is easy: simply pull back the handle, twist until you find the right bit for the job and out it pops (i mean the bit), locked in place and good to go.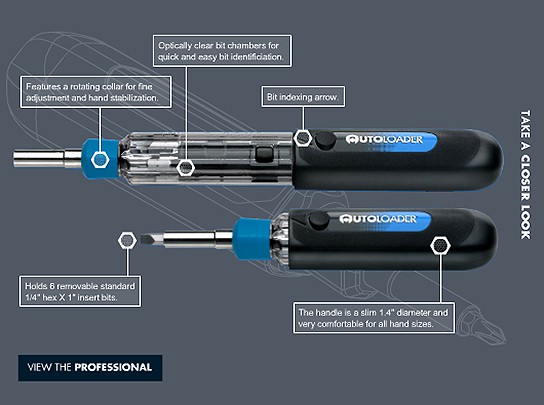 (photo source: autoloaderscrewdriver.com)
there are a total of six magnetized nickel-plated Phillips and flathead bits to choose from and you can even customise the Autoloader by preloading it with the bits you use the most often. simple and effective. but as a fan (almost to the point of obsessed) of tools, i'm not sure i am going turn and pop to get my bits. i guess it's up to individual but the video may have just sucked me in. gosh.
check out the video:

visit Autoloader website.