(credit: Razer) Razer Switchblade | US$tbc | www.razerzone.com
on the road gamers will be delighted that Razer has announced that the Razer Switchblade concept will be going into production. this device was touted as "a revolution in PC gaming", will be first made available in China with worldwide distribution to be confirmed. Razer is teaming up with Chinese Internet company Tencent [CH] for the distribution of Switchblade, which will come preinstalled with four games. no official words on what will be the "preinstalled" games though.
[ad#Google Adsense-text-468×60]
it is perhaps China's strict control over video game consoles that prompted this partnership. most game consoles are banned in China unless they are homegrown or sold officially with mainland's distributors. Razer CEO, Tan Min Liang sees China as a huge market for portable gaming machines. i certainly have no doubt about Tan's vision, especially when you have a country that has a population figure in seven digits.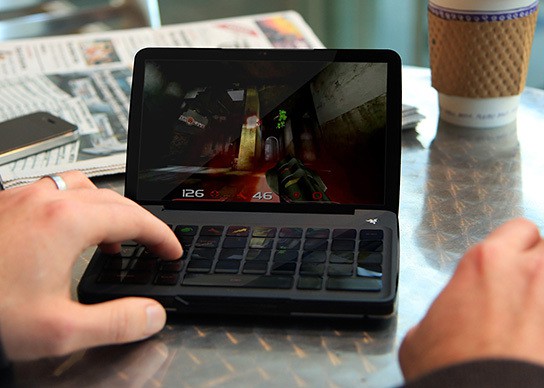 (credit: Razer)
the Switchblade was first showcased in CES 2011 earlier this and was awarded Best of CES. this netbook-styled gaming device runs on Windows 7 operating system and powered by Intel Atom Z670 processor. though it is designed to be a dedicated mobile gaming device, it still can be used as an ordinary portable PC. the highlight of this device is the unique programmable keyboard that is built over an LCD panel which allows the keyboard legends to be changed from a QWERTY keyboard labeling to a game-specific labeling and vice versa.
no word on the official availability and pricing but i will be keeping a close watch. if the pricing is 'right' i may just get one myself but first, i will need to reconnect with my contacts in China. i have a gut feel it won't be available outside China for a while but let's hope i am wrong.
via Geeky Gadgets