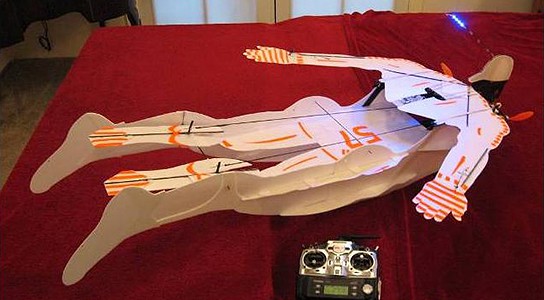 (image credit: RCSuperhero.com) RCSuperhero 75″ Kit | US$295.00 | www.rcsuperhero.com
ever dream of being a superhero? the sad truth is, you can't be one but as a consolation, at least you can fly one – literally. these folks from RCSuperhero.com has created a radio control flying superhero for your enjoyment. instead of the usual aircraft bodies normally associated with RC flying, these radio control flying machines take on the shape of a superhero. for as little as $9.95, you can purchase an e-plan to build a 57-inch RCSuperhero.
[ad#Google Adsense-text-468×60]
RCSuperhero comes in two sizes, namely 57-inch and 75-inch. the latter is a full scale RCSuperhero that's about 1.9 meters tall, has a wingspan, or should i call it 'arm span' of 1.1 meters (45 inches) and weighs about 3 pounds (1.4 kilograms). don't laugh at the RCSuperhero human size figure, cos it actually flies and its 6 pounds of thrust makes it perfectly good for vertical take off, just like what Iron Man does. the 75-inch model is available in either the e-plan form or the kit form. the former cost just $19.95, while the latter cost $295.
the kit form for the 75-inch model consists of laser-cut foam, substructure materials, control horns, a plywood motor-mount, carbon fiber fabric strands, two 4mm square arm spars and other various carbon fiber sizes, a picas photo build album with captions, material list and other e-support materials (instructions and technical information). as far as i understand, motor and servos are not included. if you have dabbled in RC hobby, this should be no stranger to you. the 57-inch is only available in e-plan form and is a downsized version of the full-sized RCSuperhero.
you may not be a real life superhero but flying as one, albeit remotely, could be just as satisfying. check out a couple of videos of the RCSuperhero in action after the break. RCSuperhero are available at RCSuperhero.com.