Rémy Martin claimed to be the first beverage alcohol brand to bring to the market a connected bottle, but apparently, it is not. It looks like Diageo has beaten to it as far back as February with the Johnnie Walker Blue Label "smart bottle." Anyway, what the Rémy Martin Club Connected Bottle, as it is called, does is pretty much the same as Diageo's, which means it can do things like proving the authenticity of the product, detect if it has been opened or has been resealed, and of course, connects the brand with the consumer. The latter leaves little to our imagination as to what this connection can and will do for the business in terms of marketing.
Like Diageo's, Rémy Martin Club Connected Bottle integrates a tamper-proof NFC tag into the bottle's capsule and the entire "experience" can be accessed using a dedicated smartphone app, developed in conjunction with Secure Internet of Things solution provider, Selinko. Rémy Martin said the high-security chip, which has the same level of security as found in passports or bankcards, works in harmony with an asymmetric encryption to detect the opening of the bottle and will remain active thereafter. For how long, it is not known.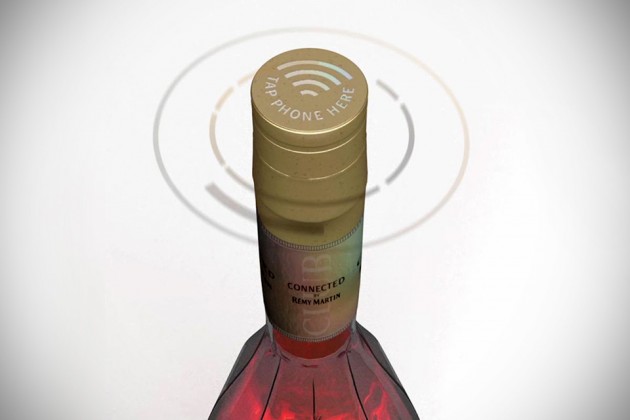 Novel, it probably is, but to us, it is hardly exciting. We view it as another avenue for brands to extract consumer behaviors and habits with regards to drinking, as Rémy Martin Executive Director, Augustin Depardon, explains: "Not only does the RÉMY MARTIN CLUB CONNECTED BOTTLE guarantee the authenticity of the product, but it also allows us to communicate directly with our consumers who enjoy our products which is a very exciting innovation. Rewards, events, special offers: our communication can now be completely aligned with our clients' preferences for optimal relevancy."
In addition, consumer will also be eligible to "earn points" under the Rémy Martin engagement program when tapping the bottle again. However, looking at Rémy Martin's choice of country for the launch, which is China, btw, it is no doubt the technology is also taking a stab at a pressing issue in the growing economy and that is to help consumers authenticate the bottle's genuine provenance. Also, the ability to detect whether the bottle is sealed, or has been resealed, will help to deter tampering of the content which could be prevalent in certain locality.
The Rémy Martin Club Connected Bottle will first be available at nightclubs in China and subsequently else where, though no specifics were provided.