If an all-out "cinematic camera" seems like an overkill for your casual and fun iPhonegraphy endeavor, the pioneer of add-on lenses for iPhone has a brilliant solution and it is called olloclip Studio Mobile Photography System. Quite a mouthful, perhaps, but it kind of says what it is and as you might have imagine, consists of several parts. The complete kit comes with a ruggedized iPhone case that's designed to let you swiftly attach olloclip lenses and of course, protects the phone in case of accidental drops, plus there's a number of accessories that lets you add stuff like microphone, LED light, and also to facilitate mounting on tripod or monopod.
To enable those accessories to be attached to the case, olloclip has developed an ingenious rail-mount system around the back of the case. This molded plastic affords the various attachment to be quickly affix to the case and position along the phone as and when desired. While those may seem like a 'norm' expected of a 'mobile photography system', the Studio offers an extra accessory called "two-finger universal grip" that allows you to securely hold the phone in both portrait and landscape orientation while you go about your mobile photography business. The aforementioned accessories include a kickstand, two 1/4-20 mounts for tripod, monopod, grip or handles, and a pair of cold-shoe adapters for lightweight add-ons like mic or light.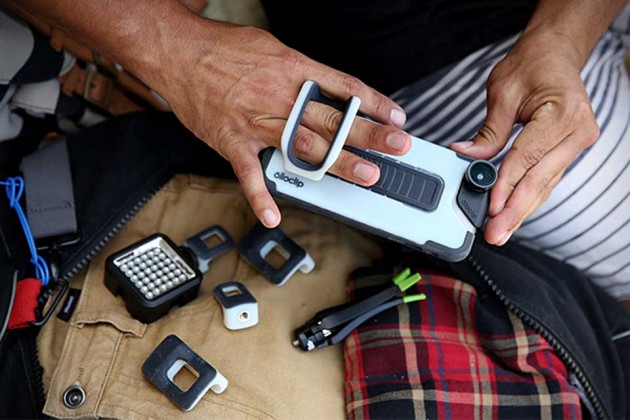 olloclip is going back to where it started four years ago on Kickstarter, where for a pledge of 35 bucks, will land you with a Studio case with kickstand and for $60, the complete kit with the aforementioned accessories. However, lenses aren't included and so if you don't already have them, you can acquire them through perks that comes packaged with lens (or lenses) for $110 and up. If all goes as planned i.e. the campaign reaches or surpasses its set funding goal, which it most definitely will, then you can expect your selected reward to land at your doorstep sometime in September 2015. Continue reading for the product pitch video to learn more.