What does a professional video camera has? It has zoom functionality via handy hard buttons, excellent swappable optics, and can be outfitted with a range of accessories to suit the need, including LED flash, external microphone and more. Smartphone, on the other hand, have none of those, but it can edit and post footages on-the-fly. However, a Montreal-based startup has a bold ambition to blur the line between a smartphone and a professional video camera, and the product that will help them achieve that is the IndieVice SmartBody.
The product name does not quite say what it is, but in a nutshell, the SmartBody is a platform, a cage, a pro-like viewfinder, and has a swappable lens mount to boot. Billed as the first universal smart body for smartphone, it will turn an otherwise ordinary smartphone into a pro-rig, complete with viewfinder with special dioptric adjustable lens and supports a huge range of lens that you can change as and when desired. It even has a Depth of Field Adapter, allowing you to use your existing SLR lenses with the SmartBody. Furthermore, not only does it work with any smartphone, it is also GoPro with the appropriate adapter and can also be used with Sony QX10 lens camera, leveraging on your smartphone, of course.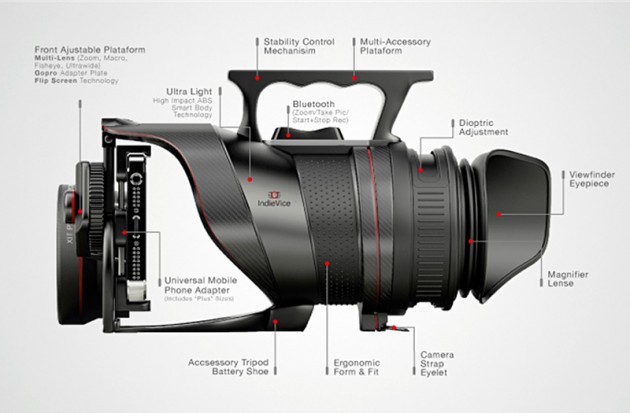 Perhaps the most impressive part is the cage, where you will find a super cool pro-style handle for below hip shots and a Bluetooth-enabled rocker button that afford pro-style zoom-in and out, and even start, stop and record. There are not one, not two but three 1/4" brass threads, two on the top and one at the bottom, for attaching accessories like lighting, microphone, or a second viewer, and mounting the rig to a tripod, monopod, stabilizer or even a slider. At a glance, you won't even suspect the setup is actually designed for smartphone.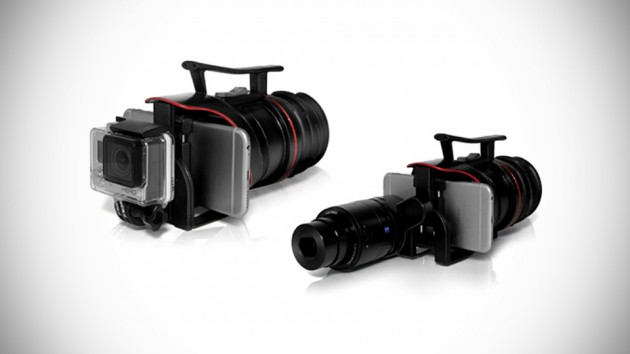 With this rig, all that's left is a good mobile phone camera and you are pretty much all set to be filmmaker. So where or how do you get one? On Kickstarter, of course, which also means, it will only materialized if the campaign meets its set funding goal and in this case, $50K Canadian dollars. But the prospect seems bright cos' at the time of this writing, the project is already over 72 percent funded and it still has 28 days to go. As for the prices, it starts at $125. If you're all up for it, we suggest you scour over the different reward levels to find one that fits your need.