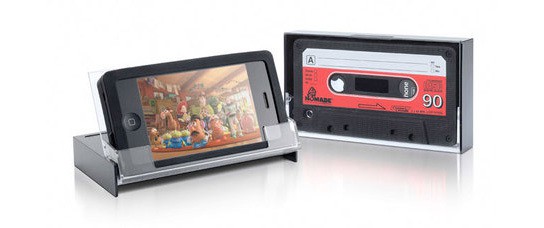 (photo source: ipodtouchlab.com)
can't get enough of cool-looking stuff? go retro-chic with this really cool iPhone 4 case in the form of a cassette tape – the Homade iTape Deck. for those too young to know, cassette tapes are stuff we used to store music in it (before CDs and MP3s). the iTape Deck comes in 2 parts, the 'cassette tape' silicon case and a 'cassette tape case' stand. completing the retro look is the ABS outer casing for the silicon-clad-cassette-tape-looking iPhone 4. flip over the outer case and becomes a stand to prop your iPhone up and you can enjoy your videos while feeling nostalgic. this case is definitely going to be an attention grabber. are you ready to be the center of attraction? that is if you don't mind the bulk the silicon case is going to add to your slim iPhone 4.
the Homade iTape Deck comes in black/red color and blue/white combo. it's available @ Strapya World and Air Asia Megastore.