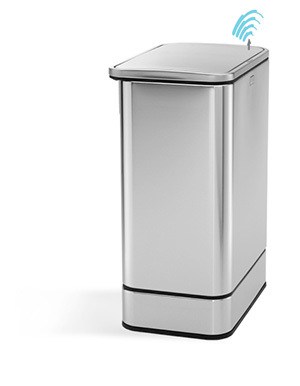 (photo source: simplehuman.com)
simplehuman designs and manufactures sleek household wares such as trash can. yeah, trash can need not be monotonous looking object hidden away in some inconspicuous corner of your house. simplehuman takes the simple task of discarding trash a step further – introducing the sensor can. it is a trash can, but with a built-in advance sensor that senses your intention to use it, opens up and closes after you are done. no, you need not flip the lid or step on the paddle. the sensor can uses an adaptive sensor technology called multi-sense™ which syncs the can with your motion. what makes it so special is the sensor changes its sensing behavior to suit different situation. basically, the one sensor has 3 modes: the ready mode, the task mode and the stay-open mode.
in ready mode, there's a focused space above the sensor (i.e. directly above the lid) known as the trigger zone, ready for you to throw your trash. the sensor in this mode does not 'spill out' of the front of the can, avoiding false triggering when people walks past the can. when an action of discarding moves over the sensor, the sensor changes to 'task mode' where the trigger zone extends and becomes more sensitive to activity. this mode prevents the can from closing on you (i mean your hand) while you are still discarding the trash (seriously, does it take so long to discard something?). time to clear the can? no worries. after more than 3 seconds of continual activity, the can switches to 'stay-open mode' where it stays open for 30-seconds, in the event that you turn your back to get a fresh liner – it stays open. very smart indeed.
asides from the multi-sense™ technology, the sensor can also incorporates feature such as odor removal, robust motor (for the lid), nylon discs under its based (gentle on your flooring) and custom extra strength fit liners, fingerprint-proof stainless steel exterior. the sensor can uses 6 x C-size batteries which can last up to a full year. for a handsome amount of US$225.00, you can add this 40 liter high-tech trash can to your growing list of high tech products in your house. i said 'handsome' because that's quite an amount for trash can, regardless. i want one, but i suspect my wife wouldn't let me have one.
visit simplehuman website.