(photo credit: klhip.com) Klhip Nail Clipper | US$50 | www.klhip.com
if you thought you have already possess all the coolest stuff in the world, think again. you might be missing this: a nail clipper. what do expect of a nail clipper? its just a tool that cuts nails, isn't it? but apparently Klnip doesn't think clipping nails is that simple and hence, the Klhip The Ultimate Clipper was born.
first off, it looks nothing like a conventional nail clipper. but hey. that's the whole idea. the clipper is made of surgical stainless steel finished in natural satin and unlike standard nail clippers, it has only has one blade. apparently, double blades will dull each other (the blades) out over time or tear the nail. Klhip claimed that the cut will be so smooth that filing will your nails might a thing of the past. on top of that, the smooth clipping action will keep the clippings on-board instead of flying everywhere else.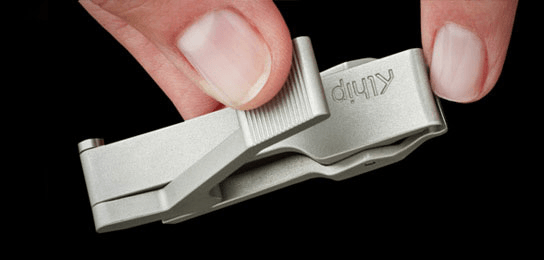 (photo credit: klhip.com)
the clipper is designed with "reverse engineering" (check out the photos), hence you are applying pressure above the nail you're cutting which results in a more comfortable grip, and makes clipping easy. well, i am not sure if i agree with that. do we really need to reinvent the wheel (paying US$50 for that), even for clipping nails?