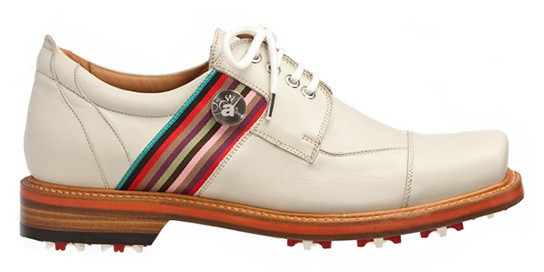 (photo credit: albartross.com) Royal Albartross Black Jack Bianco | £345 | www.albartross.com
you can be sure when you see a brand name with the word 'royal' in it: it's either very exclusive or it will takes an arm and a leg to buy it. well, the Black Jack Bianco from Royal Albartross is the former, but as for the latter, it depends on your financial status. i am pretty sure Tiger Woods has no qualm about getting one pair just like that.
the shoes' upper is of water resistant leather uppers which soft and supple and requires no breaking-in. you know how leathers are like. so it's a good thing that the leather don't start eating your feet on the golf course. the interior features soft and breathable linings without any stitching which may cause discomfort to the wearer.
asides from its materials and quality, the design of the Black Jack Bianco definitely let you extrude a sense of classic in a gentlemen game. get the white. i don't think black and gloss black are going to be anywhere outstanding. i am serious.