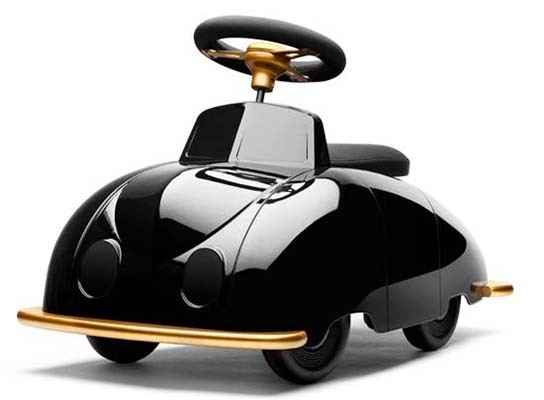 Playsam SAAB Roadster sit-on toy car | from approx. US$386.00 | www.playsam.com
if the Konstantin Beta sit-on toy by Nika Zupanc is beyond your budget, perhaps this sit-on toy car based on Sixten Sason's SAAB Roadster prototype 92001 from the Scandinavian design company, PLAYSAM, might be a less expensive alternative without sacrificing style and functionality.
constructed out of a combination of wood, plastic and metal, this cute-version of the SAAB Roadster even has the steering wheel made of wood and metal just like the old sports car steering wheel. two versions are available: the black/nature combo and the black/gold/leather combo. prices starts from a modest 2668,80 SEK (approx. US$386) for the basic black/nature model and 7987,20 SEK (approx. US$1,150) for the more luxurious black/gold/leather model.
i think it look so awesome that it makes me wanted to be a kid again. why don't i have this kind of gorgeous toys in my time?