scrap metal art is not new and to date, artists with the knack for metal works have done pretty amazing stuff including pop culture icon like Transformers sculptures made entirely out of discarded metals. if you think shaping and welding metals into organic robots are impressive, wait till you see Thai scrap metal artist BanHunLek's Hulk that's made entirely of used auto parts. and if you haven't get why this particular Hulk is so impressive, let us give you a little hint: that frictional green beast was actually human, well, sort of and shaping an organic form using only metal parts is no mean feat. it was creativity at its best.
as you can see, BanLunLek's Hulk appears to be have countless holes in it. that's because most of the creature's body are composed mainly of massive number of nuts welded together. clever choice. because of the nuts small size, they allows the artist to 'shape' the Hulk more 'organically' (kind of like how pixels made a picture whole, if you know what i mean) as opposed to actually shaping sheet of metals to form the shape. speaking of sheet metal, this scrap metal Hulk's tattered pants appears to made out of them, complete with the mandatory tears and all. we don't see a lot of scrap metal art ourselves, but still, this is by far the most life-like Hulk sculpture we have seen.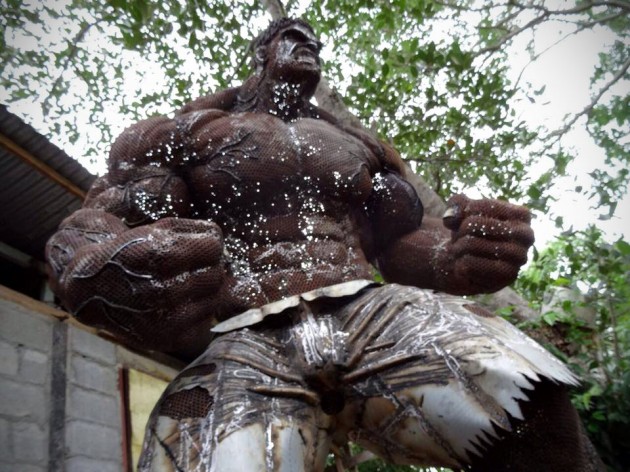 just look at the muscles, toe nails, hair (yes, even hair!), the expression and veins. veins – that's how detailed this incredible sculpture is. BanLunLek runs a shop that does custom sculptures made out of used car parts, you know, stuff like spark plugs, bolts and nuts, screws and the likes, and has a long list of works in his portfolio including Transformers, Aliens and various movie characters. and it appears that he is selling them. though we are not so sure if this smashing Hulk is for sale. all we can say is, this scrap metal Hulk really smashes our minds.