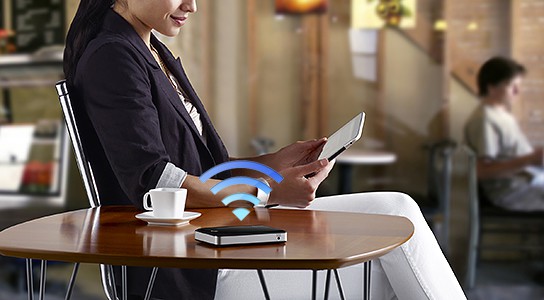 (credit: Seagate) Seagate GoFlex Satellite 500GB | US$199.99 | www.seagate.com
feeling constrained by iPad measly 64 GB capacity? Seagate has a brilliant solution for you by the way of the GoFlex Satellite. so what so special about this external hard drive? it is the first portable hard drive from Seagate that sports an internal battery pack and integrated WiFi b/g/n connectivity along with the standard USB 3.0 port. the highlight is probably its ability to connect to your iPad, iPhone or Android devices via its WiFi b/g/n radio or via the USB 3.0 port using Seagate's GoFlex connector.
[ad#Google Adsense-text-468×60]
connected devices can browse movies, photos, music and documents that are stored on the GoFlex Satellite. as at now, Seagate offers an iOS specific app, dubbed the GoFlex Media while Android or other devices access to the GoFlex Satellite is via a web interface. the GoFlex Satellite not only lets you connect to one but three devices simultaneously. connected devices can either view the same content together or different media at the same time. the GoFlex Satellite has a claimed 25 hours of standby time while video streaming will have roughly five hours, assuming that you have the portable HDD fully charged. the GoFlex Media app features video caching of the video that you're watching on the iOS device, so that the drive is can go into standby mode, thus helps to prolong the portable HDD battery life.
the GoFlex Satellite comes bundled with a Media Sync application that automatically index the content in the portable HDD into categories for the iOS app or web interfaces and that's not all. when connected, the drive will be seen by third-party apps such as VLC app. up to this point, i think Seagate might have just hit the nail on the head. having highlighted the pros, there is one particular down side of this device. the portable HDD requires a direct WiFi connection, therefore once your device is hooked up to the drive, you will lose the ability to connect to your router or hotspot. that said, Seagate also promised a fix for this in future firmware update.
i hate to admit this but i am totally sold by the idea and looking forward for its availability. limited storage has always been the 'weak point' of most portable devices and this solution from Seagate might just be the answers for all portable device users. the Seagate GoFlex is slated to go on sale in the US this July with worldwide availability to be expected sometime in late summer. it is now available for pre-order from Seagate website for $199.99 (US only).