Forget what you know about imaging unmanned aerial vehicle, because if you are looking to deploy such a vehicle spontaneously, Sprite Rugged Imaging Drone is the way to go. Why? For starter, It has a tube-shaped design which enable it to be slip right into your backpack's side pocket, which means quick access to it whenever you need it. Sprite does not take on the traditional, same-plane multi rotor approach. Instead, it has a coaxial setup that revolves around the airframe itself and boasts an advanced autopilot system that takes the chore of flying out of your hands. It supports Tower, DroidPlanner and MissionPlanner flight control software for Android and PC, letting you create flights by drawing paths or dropping waypoints on smartphone or tablet. However, you can also choose to go manual using conventional transmitter or mobile device.
Sprite can be set to orbit around subjects or POI while keeping the camera pointed at the target, thoroughly map targeted area using Survey function, and follow a subject in "Follow Me" mode. HD video is stored onboard, but it also support real-time first person view too. Other features include compact, folding rotor blades for easy storage and portability, high impact airframe that's sealed against water and even floats on it, zero-tool operations make swapping of battery and any other field repair a painless process, modular payload design allows the camera to be switched out for other payload or cameras and finally, a push button built into craft that enables simple operation without external control, through preloaded autonomous missions.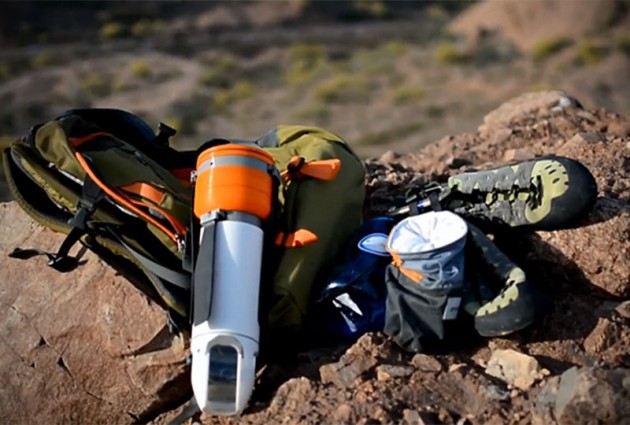 And oh, did we mention this little guy can land virtually anywhere? When commanded to do so, the vehicle applies a quick brake of the rotors at a safe altitude, and the blades fold back to their retracted position and it will simply drop to Earth. Pretty brilliant idea, if you ask me and for some reasons, the whole setup from launching to operation to landing, sounds very sci-fi-ish to me. Ascent AeroSystems, the young company behind Sprite Rugged Imaging Drone, has taken the tradition-breaking UAV to Kickstarter where it is looking to raise $200,000 to, as the firm puts, take it out of their backpack and into your hands. If you love the idea, you can back it up by pre-order a setup for $799 and up. There are no fancy early bird perks. It is just a pre-order which, if enough people backs it, it will then materialize. See it in action in the pitch video below.