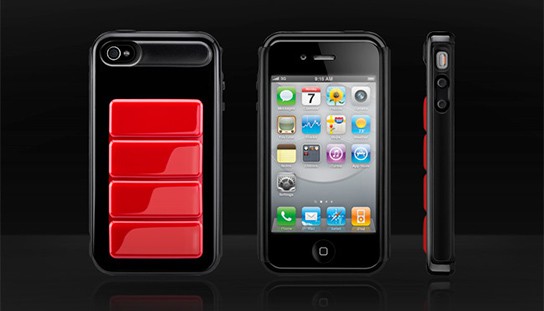 (image credit: SwitchEasy) SwitchEassy Odyssey | US$29.99 | switcheasy.com
new from SwitchEasy is this 3-piece hybrid iPhone 4 case, dubbed the Odyssey. yea, it's a hybrid alright. hybrid in the sense that a few materials were used to form up this 3-piece case. aesthetically, the Odyssey has a very retro feel to it and it kind of reminds me of Stanley Kubrick's 2001: a space odyssey (MGM, 1968). the Odyssey uses materials like the ADSP (adaptive Dynamic Soft Polymer) for the inner casing, super tough polycarbonate for the frame and a scratch-resistant hydro polymer for the back panel. looks like SwitchEasy really takes the iPhone case design very seriously and took great effort to ensure the Odyssey is not only aesthetically beautiful but also provides serious protection for your iPhone 4.
it came as a surprise that the Odyssey iPhone 4 case's retail price remains affordable, at $29.99, despite the 3-piece construction and the choice of materials used. with this price, it comes packaged with a full suite of accessories which include two interchangeable back panels (choice of two color options), two anti-static screen protectors, one micro-fiber wipe, one squeegee screen protector applicator, two universal dock adapters (in pearl white and piano black), one video dock stand, two power jack connector protectors and two 3.5mm headphones jack protectors. wow. that sounds like a lot of 'freebies' that comes with a modest $29.99 retail price tag.
the Odyssey comes in a choice of seven colors combo for you to choose from. no dimensions were given, but judging from the photos, it is safe to say it might just add a little bulk to the slim iPhone 4. well, the bulking up is the price to pay (beside paying for price of the case) for that extra protections.