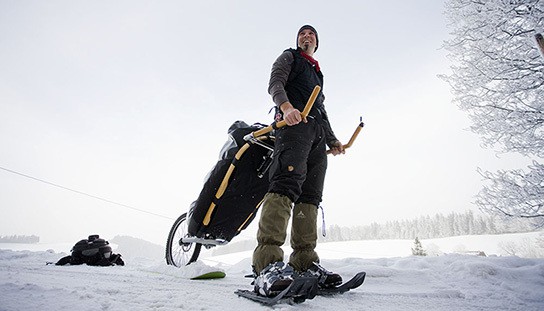 avid hikers will understand the weight of the package one has to carry during a hiking trip. this weight we talked about is not reserved just for hikers. scientists, photographers, hunters and climbers alike, have similar load burden issue when they are out and about carrying out their duties. understanding this load issue, German firm, MONOWALKER has a novel solution in the form of the Hikingtrailer, to take the weight of the shoulders – literally.
basically, the Hikingtrailer resembles a wheel-barrow except that you pull it rather than pushes it. constructed out of wood ash tree-bent and metal alloys, it comes complete with special hip belt, padded should belt and a disc brake that can be actuated via the the user handle bar. having the brake means user will have controlled descent without the trailer pushing up against the user. the load-bearing system is designed to let your hip carry half of the equipment weight with a special hip belt, while the Hikingtrailer carries the rest of the load, thus taking the weight off the user's shoulders.
according to MONOWALKER, the Hikingtrailer can be readily convert into a LASTENKRAXE backpack when required and with the purchase of an upgrade kit, the Hikingtrailer can be reconstructed into a two-wheeled bicycle trailer. the Hikingtrailer weighs in at 7-kg (15.5-lbs) and has a payload of up to 45-kg (100-lbs). the Hikingtailer retails at €755.00 (about US$1,035) for customer outside of EU and €899.00 for those within the EU.
on the looks department, we think the MONOWALKER Hikingtrailer looks awesome with the wood and alloy combo, and the ability to convert into a backpack readily is definitely a plus point. we have a serious, incurable penchant for beautifully designed stuff, therefore we are compelled to show-off more images of the Hikingtrailer here on behalf of MONOWALKER. so what are you waiting for? check out the images after jump.
via Gizmag