Sport Utility Vehicle, or SUV is not normally associated with speed, but this one from Tesla Motors, the much anticipated Model X, is about speed, while having the practicality of ferrying up to seven person and loaded with cargo. Thanks its small electric motors, you will cargo space under the hood, in addition the trunk. Speed is not the sole traditional breaking feature; it is also the first SUV with Falcon wing doors, affording an aperture large enough for easy access to the third row even with child seat(s) on the second row.
The Falcon wing doors are essentially an updated and advanced version of the gullwing doors. It has two hinges as opposed to one, allowing it to open in the tightest space. The doors work in conjunction with ultrasonic sensors to detect obstacles on the sides and senses the roof height, so it can open without banging on them. With the gullwing doors, it also make setting a child on the second row seats a painless affair now that you don't need to bend at awkward angle to do so. While the front doors are just regular doors, it does boast an interesting feature: auto opening when you approach it at an angle and closing when you are comfortable seated inside.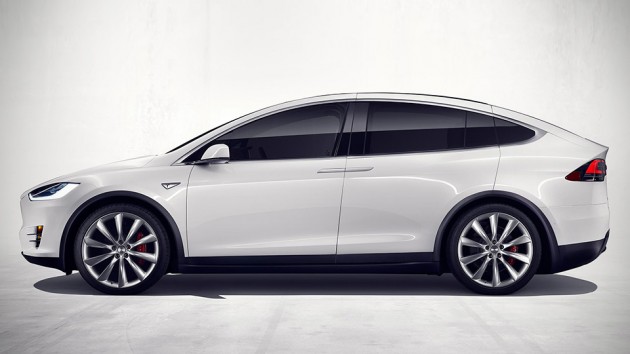 With the Model X, Tesla Motors has put in a lot of details to make driving a safe and fun one, and that includes a charging cradle, which Elon Musk refers to as "blind holster." Blind holster eliminates fumbling with cable when charging your phone. All you have to do is to plug your device into box and it will auto fit. Blind holster will be available with adapters to suit various make of phone, Musk said. Electric motor is all about torque and therefore, it is no surprise that Model X has a pretty impressive towing capacity of up to 5,000 lbs (2.3 tons).
On the safety aspect, the front trunk doubles as a large crumple zone, whole the floor mounted battery offers a few benefits like rigidity, including side impact protection and low center of gravity that will help to minimize rollovers. Of course, those are second line of defense, because the best defense is prevention, which Model X actively does with its suite of active safety features, which includes side collision detection and automatic braking. Model X also addresses an safety aspect which most car makers won't place emphasis on and that's airborne bacteria and viruses. It uses a huge medical grade HEPA filter to filter out pollen, bacteria, viruses and other airborne pollutants before introducing the air into the cabin.
In addition to circulating with outside and re-circulate inside air, Model X has an additional mode called, wait for this… "bioweapon defense mode." Hit on that mode, you get a positive pressure inside the cabin that will further prevent harmful air from sipping in. So in the unfortunate event of an apocalyptic thread, your family and you will be safe within, but there are no options for spike wheels, bulldozer blade and machine guns though. The car is designed with a helicopter-inspired, panoramic windshield that provides the driver with an unhindered view of the front and at the rear, there's an automatically deploying rear spoiler.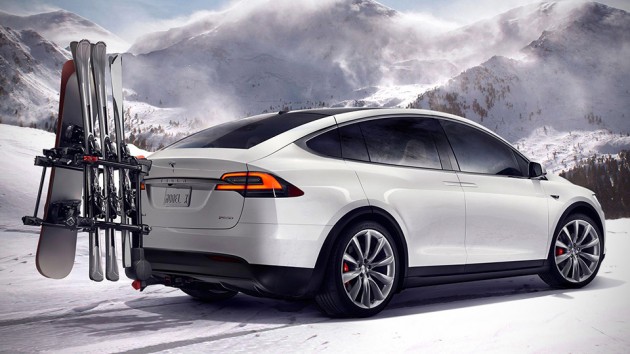 Two models are offered, the standard 90D model and the performance P90D model, both are of course, all-wheel drive. The 518 horsepower standard model gets you 257 miles (413 km) range and accelerates from 0-60 in 4.8 seconds, and has a terminal speed of 155 mph (249 kph). The super car worthy 762 horsepower (259 front, 503 hp rear) P90D, on the other hand, is the go-to model for speed-demons. It offers a tad lower range at 250 miles, but it can get you from zero to sixty in just 3.8 seconds, or 3.2 seconds if you go with the Ludicrous Speed Upgrade. Top speed, however, is still limited to 155 miles an hour. Want one? Well, there are two prerequisites: have at least $132,000 to drop and the patience to wait till "latter half of 2016" for the delivery.