rather than let your kids grow up with violence-intended action figures, why not let them learning, or at least experience, something more wholesome like servicing a car, for example? well, if you are all up for it, then the Theo Klein Car Service Station is exactly the toy to get for your kids. featuring a front end of a car (aka half-cut in the real automotive world) complete with a dash and steering wheel, ignition, front wheels and a motor under the hood (or in this case, protruding out of the hood), the Theo Klein Car Service Station or as Hammacher likes to call it, The Car Lover's Engine Repair Set, lets junior muck around the engine with activities like change oil and air filter, remove spark plugs, remove cowling and various nuts and bolts, and even checking the dipstick for oil levels. basically, nearly everything a real car technician would perform during a standard servicing routine – right down to firing up the car to appreciate the fruit of the labor.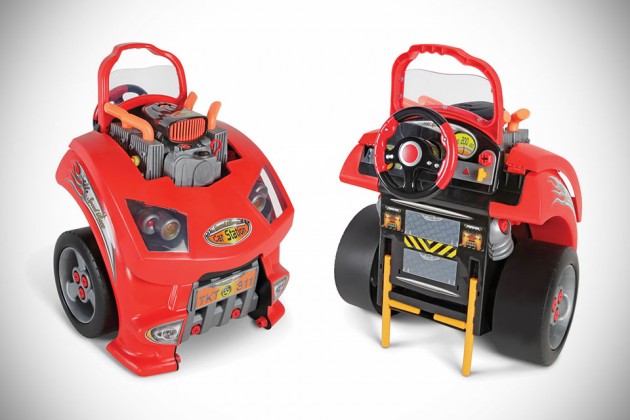 other details include a working horn and headlights, plus the necessary toy tools to get the kids started. the entire set up is powered by eight AAA batteries, which is a whole lot environmentally friendlier than real gas-powered motor and also safe for kids as electrical hazards are virtually non-existence. man, how i wish i had this kind of toys when i was little. but it's designed for ages 3 and up, so i guess there's no stopping grown ups from tinkering with it too, isn't it? all you need to do is to convince your spouse or love one why you have to drop $119.95 for a toy when you don't even have kids, yet. now that kids are blessed with car serving, how about designing one that let you mod the toy car like switching out to larger turbo or fit a supercharger? or 'aftermarket' exhaust, perhaps? wishful thinking, it is. so for now, the Theo Klein Car Service Station will have to do.
p.s. apparently, this toy from German toy seller/maker Theo Klein has been discontinued. so if you want one for your kids (or yourself), it is wise to grab it now. just thought you should know.