some must be thinking: with so many electronics giants making robot vacuum cleaner, why hasn't big name like Dyson jump on the bandwagon yet? well. you see Dyson is the like the Apple of home appliance world. they take painstaking effort to make sure they get it right, or at least 'right' in the eyes of the company. so here it is, after expending sixteen years and an astronomical sum of nearly $47 million, Dyson has finally taken the wrap off its first robot vacuum cleaner, dubbed the 360 Eye. being a Dyson product, you can expect two things: meticulously engineered on the inside and pretty on the outside – both which you will find in the Dyson 360 Eye.
however, at first look, it appears that the 360 Eye is significantly taller than most robot vacuum cleaners out there and for good reasons: it is packed with cyclone technology, on top of its own energy-efficient motor. we can't say it is for the best of an autonomous vacuum cleaner cos' the height makes under sofa or beds a no go zone. the 360 Eye is so named because it apparently has a 360-degree camera that allows it to "see" your house and in addition to that, it is also rigged with infrared sensors that allows it to navigate around efficiently. it can even select objects as reference points and triangulate to determine its own position. those are the navigation aspect.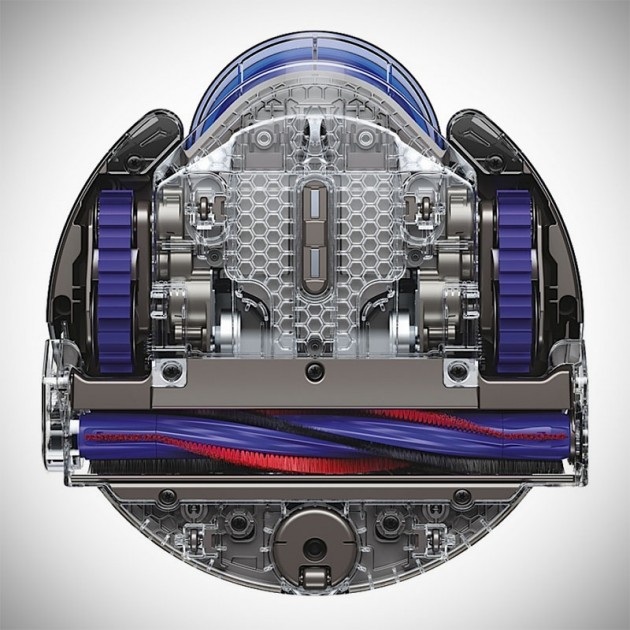 on the cleaning department, it has a nylon and carbon fiber brush bar that runs the entire length of the machine, which Dyson said is good enough for getting the edges without the need for side-sweepers like those found on Samsung's and LG's examples. additionally, to ensure it can get over any household 'terrain' such as tiles, rug, carpets and stuff, it is equipped with caterpillar treads. and finally, there is the control portion to deal with, for which this WiFi-enabled robot vacuum cleaner has an accompanying smartphone app (for both Android and iOS devices) that will let you tweak the setting, as well as schedule the cleaning routines.
it will, of course, come with a docking/charging station which it will return to when it is done or about to run out of juice. Dyson has chosen to unveil the 360 Eye in Japan where it will go on sale sometime in Spring 2015. as for the rest of the world, we are expecting to see it in later part of 2015. pricing is not available for now, but it's a Dyson, so if planned to get one, you should have mentally prepared for what is to come. no? keep going for a product video.