SeaSucker Vacuum-mounted Bike Rack | from US$146.99 | www.seasucker.com
Seldom the word "suck" can be so positively used. Well, "suck" is what the SeaSucker Vacuum-mounted Bike Rack does – in a good (& firm) way. The sucker on the Vacuum-mounted Bike Rack is different from your ordinary suction cups – it has a built-in pump which enables the rubber suction cups to stay in place, holding up your precious Cannondale bike while you whiz off (in your automobile, of course) to your favorite riding spot.
There's a catch though. The cups will loose it's pressure over time and when that happen, the red line on the pump button starts to appear. All you have to do is to top up the pressure of the suction cup. Hence, its not a "mount and forget" kind of gadget unlike, say, traditional racks you can find recommended by popular websites like rackhungry.com; you gotta do your due diligence every now and then, or you may risk loosing your precious Cannondale bike on the highway.
SeaSucker claims that the product has enough suction force to allow people to climb up the sides of buildings – quite probable but i wouldn't want to verify the claim myself though. Onn the SeaSucker website, one of the photo shows a person standing on the mounted bike rack which is pretty impressive.
After reading this awesome bike rack mount for your automobile, and you just can't get enough of SeaSucker, no worries – the company has a range of other products that sucks too. ranging from mobile phone holders to cup holders to camera mounts.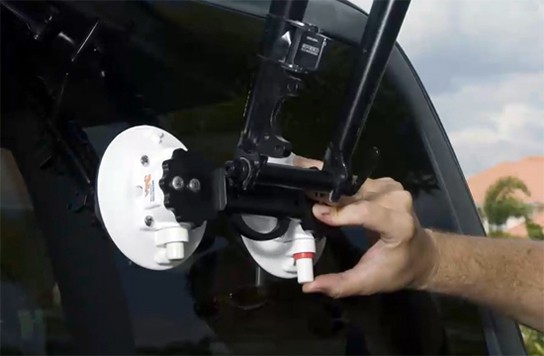 (photo credit: seasucker.com)
via CNET CRAVE