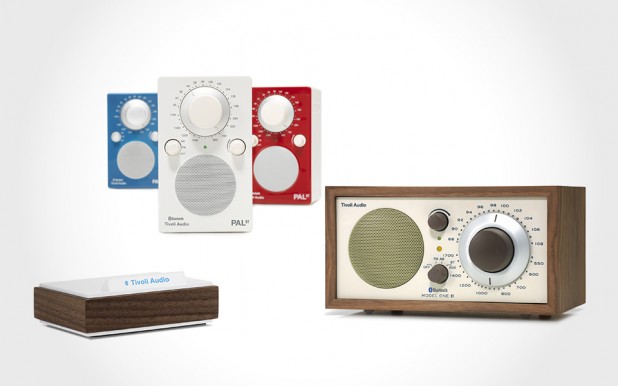 Tivoli Model One BT and PAL BT | from £199.00 | www.tivoliaudio.co.uk
fans of the great sounding Tivoli will no longer feel left out of the wireless world. Tivoli has added Bluetooth connectivity to its portfolio but instead of starting out on a clean sheet for a brand new product with wireless capability, Tivoli has opt to update its popular models including the Model One and PAL with built-in Bluetooth capability. both model require little introduction, however, for the uninitiated, the Model One is clean, minimalist desktop radio which in its previous iteration, only supports digital radio and regular radio functionality. the PAL, on the other hand, is a portable model that is weather-resistant and built with a rechargeable NiMH battery pack for mobility and outdoor use. with the inclusion of the Bluetooth connectivity, users can stream audio wirelessly from their smartphone, tablet, computer or any Bluetooth-enabled devices to the Model One BT and PAL BT.
additionally, users can also choose to stream Internet Radio from apps such as the recently introduced Tivoli Radio App (for both iOS and Android devices) to these BT-enabled Tivoli radios. common to both models are advanced A2DP profile, memory for up to eight paired BT devices and Frequency Hopping Spread Spectrum (or FHSS) for a low-to-no-noise interference with other wireless devices. separately, Tivoli Audio also introduced the Audio BlueCon Bluetooth Wireless Technology Music Receiver that offers a simple solution to turn virtually any audio system into a BT-enabled system, allowing audio to be streamed to them wirelessly. slated to be available this September via selected retailers, as well as Tivoli web store, the Tivoli Model One BT cost £199 each (about US$309), while the PAL BT will set you back at £239 a pop (about US$370). as for the Tivoli Audio BlueCon Receiver, it carries a retail sticker of £99 each (about US$154) – also hitting the stores in September 2012. hit the jump for a few more look.