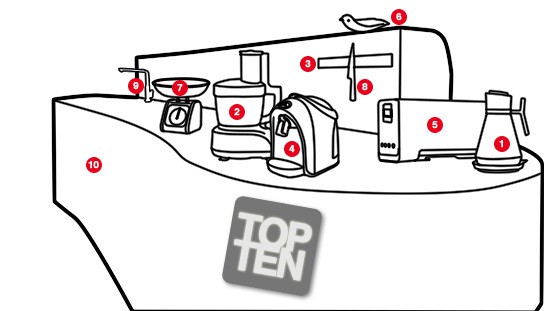 (graphic credit: mikeshouts.com)
gadgets are not restricted to just IT related domain. it is in fact, everywhere in our life, including the kitchen. kitchen is a place where we often take for granted and it is the place in the house that we think of only when we are hungry or thirsty. unless you are the chef of your household, else you wouldn't even give a second thought to it. not wanting to leave those wonderful creations out in the cold, we have compiled a Top Ten most desirable (and our favorite) kitchen gadgets & accessories list – to remind us the wonders of kitchen. am i getting nonsensical? well, let's get the list going…
1. Sunbeam Designer Series™ Glass Kettle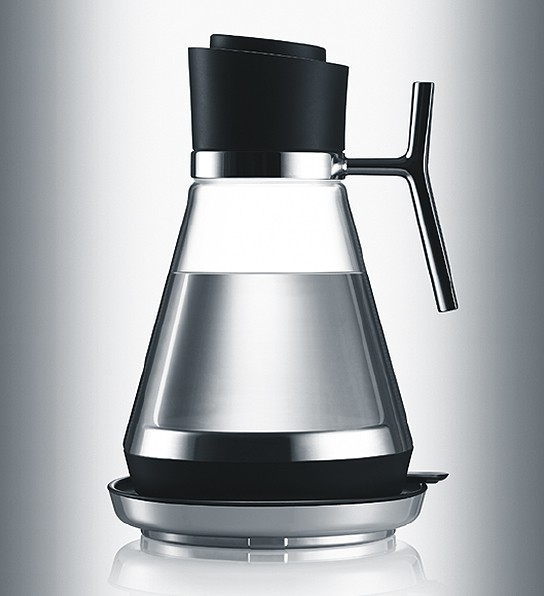 Sunbeam Designer Series™ Glass Kettle | AU$139.95 | www.sunbeam.com.au
(photo credit: Sunbeam)
you didn't think a transparent kettle would look this good. didn't you? this 1.3 liter glass kettle from Sunbeam is, well, made of glass so that you can see what's going on within while it is boiling. not that there's anything to see.
the vessel is not just any glass but its a SCHOTT DURAN Germany glass vessel. with a history of 125 years, you can't go wrong with SCHOTT's glass products. the Sunbeam Designer Series Glass Kettle features sensor-touch button operation with illumination, removable lid with mesh filter, 360 degree cordless power base and a 2400 watt concealed element.
2. KitchenAid Artisan Food Processor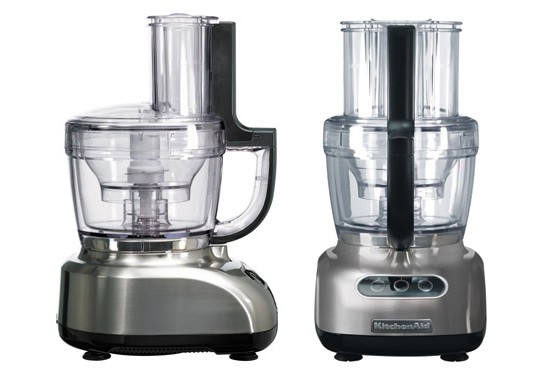 (photo credit: KitchenAid) KitchenAid Artisan Food Processor | £315.00 | www.kitchenaid.co.uk
constructed of die-cast metal construction (for the base), this food processor from KitchenAid's Artisan series provide serious food processing power with the eye-pleasing look. the KitchenAid Artisan Food Processor features integrated touch control, dual feed tubes with extra-wide and narrow food pushers, and ultra wide mouth feed tube which accommodates larger food easily, therefore less of the slicing and dicing.
the Artisan Food Processor also comes with a slew of accessories, ensuring you will have the necessary tools to whip up a fancy (and complete) meal. it comes in a choice of 7 different hues: empire red, brushed nickel, almond cream, onyx black, white, pearl metallic and cocoa silver. i'd say go with the brushed nickel finish for a more space-age look and feel. though i am not sure if the 'space age' beings still cooks.
3. Taylor's Eye Witness Wall Mounted Wooden Magnetic Knife Rack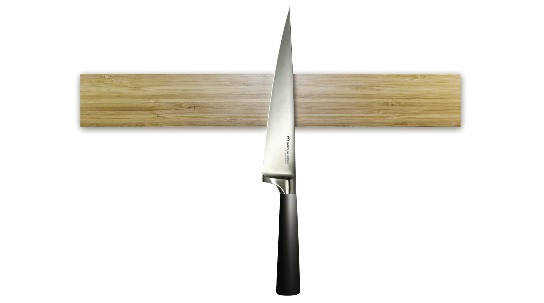 Taylors Eye Witness Magnetic Knife Rack | £20.00 | taylors-eye-witness.co.uk
(photo credit: Taylors Eye Witness)
common method of stowing away knives is by the way of knife block but the problem is, you don't know what's lurking within the slits that hold the knives. the solution? stuck it up on a magnetic board. the Taylor's Eye Witness Wall Mounted Wooden Magnetic Knife Rack (wow… that's quite a mouthful, isn't it?) holds up your knives by the means of magnetic attraction.
the wood, with a choice of Bamboo or Beech, measures 45 cm long is embedded with magnets and it comes with template and screws for you to mount to the wall. this minimalist block will holds six to ten knives which also allow easier reach and no doubt, more hygienic. as an added bonus, you get to show off your expensive collection of Hattori kitchen knives in its full glory.
4. DUALIT Piccolina Coffee Capsule Machine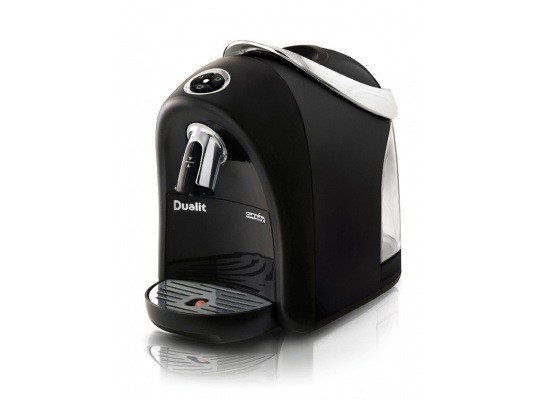 (photo credit: Dualit) Dualit Piccolina Coffee Capsule Machine | £149 | www.dualit.com
a kitchen isn't complete without either a coffee machine or a tea set. with so many coffee machine in the market, consumers are spoilt for choice. here's one to add to the list and it looks pretty damn nice too. the Dualit Piccolina Coffee Capsule Machine offers a unique twin pressure system for making expressos or at low pressure, a longer drink.
if you're a milk kind of guy, this machine also works with Latteccino Milk Frother to create frothed or heated milk. however, you will need to purchase the Latteccino (Latte + Cappuccino?) Milk Frother separately.
good look aside, some other features include integral drawer for used capsules, auto shut-off, quick heat-up with coffee dispensed in under two minutes, preset functions, removable 1.2 liter water tank, adjustable spout height and temperature and auto de-scale program.
The Dualit Piccolina is a John Lewis exclusive and it retails for £149.
5. SunBeam Pure Elements Toaster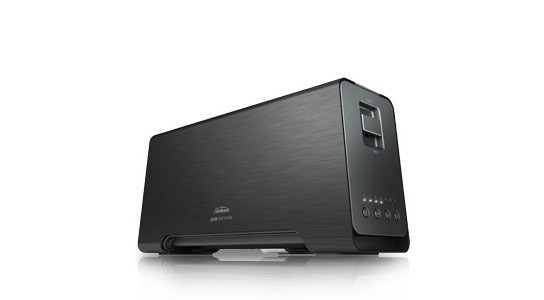 (photo credit: SunBeam) SunBeam Pure Elements Toaster | AU$139 | www.sunbeam.com.au
among the other must have for a kitchen is the toaster. like the oven, it is there even if you hardly use it. why? a toaster is to a kitchen as a coffee to a cafe. you're looking at the SunBeam Pure Elements Toaster and no, the image above is not an external hard drive, though it looks like one that iOmega would produce.
this two slice in-line electronic toaster has a nifty feature: a toasting progress indicator (much like a MacBook battery status indicator but in white LED), and it beeps when your toast is crisp and ready. everything is electronically controlled in this toaster, well, including the touch-sensitive lever.
other features include self-centering extra wide and deep slots, electronic browning control (yippee! no analog knobs!), defrost setting, specialized crumpet setting, removable crumb tray and a cord storage to tuck away your cord when not in use. i love the attention to detail.
best part we like about the Pure Elements Toaster? the white LED progress bar. that part really oozes with futuristic-statement.
6. Alessi Tea Matter, Melodic Tea-strainer by Alan Chan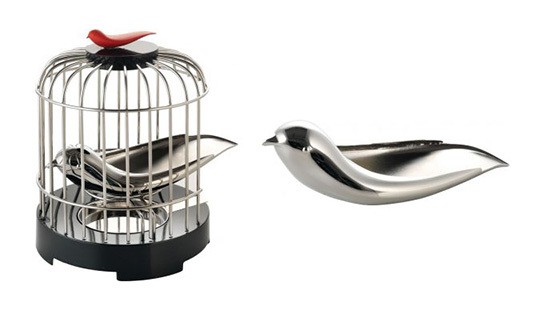 (photo credit: Alessi) Alessi Melodic Tea-strainer by Alan Chan | from £21 | www.alessi.com
if you're not a coffee drinker, chances are you're a tea person. just drinking tea alone could be rather mundane sometimes. so how about adding some melodies into your tea session? not literally though.
Tea Matter, melodic tea-strainer is designed by graphic designer Alan Chan and is constructed of 18/10 stainless steel and PMMA. it certainly look more like a showpiece rather than something we would use it every other day.
i presume that the decorative birdcage that holds the strainer was derived out of the relation between tea-drinking and bird appreciation in the early years of Hong Kong. regardless, it looks awesome and like i mentioned earlier – like a showpiece.
7. DUALIT Kitchen Scales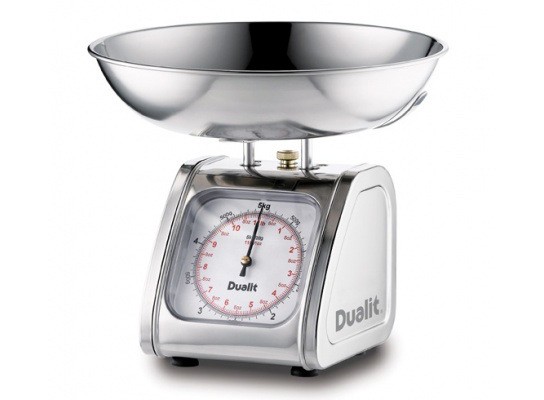 (photo credit: Dualit) Dualit Kitchen Scales | £tbc | www.dualit.com
not everything must move along with technology, take for example, the kitchen weighting scales. what it really does is to measure the the weight of the ingredients during food preparation, giving you the precise quantity required. or maybe an occasional weighing of some outgoing mails…
so we shall stick to traditional analog scales with Kg and Lbs, and since it will be idle most of time, it gathered that it should look nice too. this retro-looking item from Dualit features a oversized stainless steel bowl, a calibration wheel and a large easy-on-the-eyes dial. it has a maximum capacity of 5kg/11lbs which is enough for most home cooking use – unless you're cooking for an army.
constructed of stainless steel outer casing (including the bowl) which is an excellent idea as stainless steel is less prone to bacteria cultivation and top of that, it looks good too. the fascia of the scale is shatterproof too. i have no idea why a weighing scale needs a shatterproof fascia but i guess it is a good to have thing.
8. JCK Original KAGAYAKI CarboNext (ES) Series Kitchen Knives


JCK Original KAGAYAKI CarboNext (ES) Series | US$88.00 | www.japanesechefsknife.com
(photo credit: Japanese Chefs Knife)
kitchen knives has come a long way, from contemporary day stainless steel blade, it has moved to carbon stainless steel, ceramic blade and now we have the full carbon steel blades. chef and cooking enthusiasts will be thrilled because carbon steel has several advantage over standard stainless steel blades.
carbon steel has better sharpness, longer edge retention and easier resharpening. however carbon steel tends to be susceptible to rust and discoloration and often requires extra care and maintenance. the KAGAYAKI CarboNext, as the name suggests, uses the next generation of Carbon Tool Steel for its blade. this steel, also known as "Honko", unlike the standard carbon steel, has a much better rust resistance property but still carries the advantage of a standard carbon blade.
we have listed this as one of the top ten kitchen gadgets/accessories because kitchen knives are essential part of a working kitchen. most magazine wouldn't have bothered to feature knives, however we noted that the material developments for kitchen knives do deserve our attention.
9. GROHE Veris Faucet for Kitchen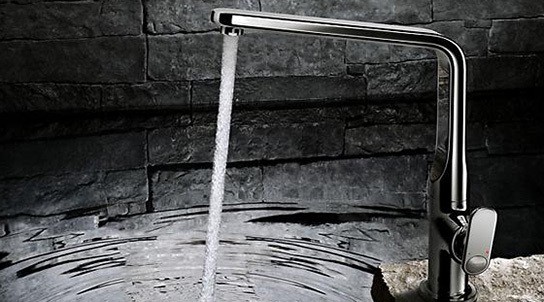 (photo credit: GROHE) GROHE Veris Faucet for Kitchen | US$tbc | www.grohe.com
why am i listing this? maybe because i am a fan of (beautifully designed) faucet. faucet is something that virtually requires no technology intervention to work at this point. it is more of a design stand point then a gadget or technology innovation.
i like the minimalist design of the Veris range. although i would prefer a more vintage look but i though the Top Ten list should embody something more to the future. so here it is – the GROHE Veris Faucet for kitchen. don't read. just look at the picture, that's all what i want to express.
10. La Cucina Alessi Kitchen by Alessandro Mendini and Garbriele Centazzo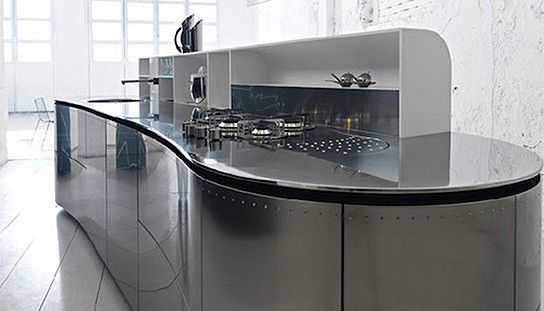 a beautiful piece of kitchen furniture to wrap up the Top Ten list: the La Cucina Alessi Kitchen expelled the tradition that kitchen furniture need be at the walls. this curvey kitchen island has the basics you will need to cook up a storm. the low shelving provides easy access to your necessities such as spices and the round corner is not only aesthetically pleasing but also prevents accident.
what can i say? its simply beautiful. kind of space-age looking too. i like.
well, there you have it. out Top Ten most desirable kitchen gadgets & accessories. we certainly hope you have enjoyed reading this article (that we have spent hours prepping). do drop your comments. yah?