if you are in the market for axes that performs as good as they looks, then we think Treeline Outdoors Half Hatchet and Hudson Bay Axe are two stylish axes that might be worthy of your consideration. the Half Hatchet celebrates North America craft and trade with a 1.5 lb forged steel head, painted in a fitting forest green to deter rust, and boasts a 3.5-inch polished cutting blade, beveled nail slot and on the opposite end, a striking hammer face for driving nails and stakes – making it an ideal (and handsome) tool for trimming, cutting and splitting tasks. it is paired to a 13-inch Hickory handle with Gunstock stain, which has a hole to fit a strap of your choice (not included) and it comes standard with a durable sheath with snap and belt slit.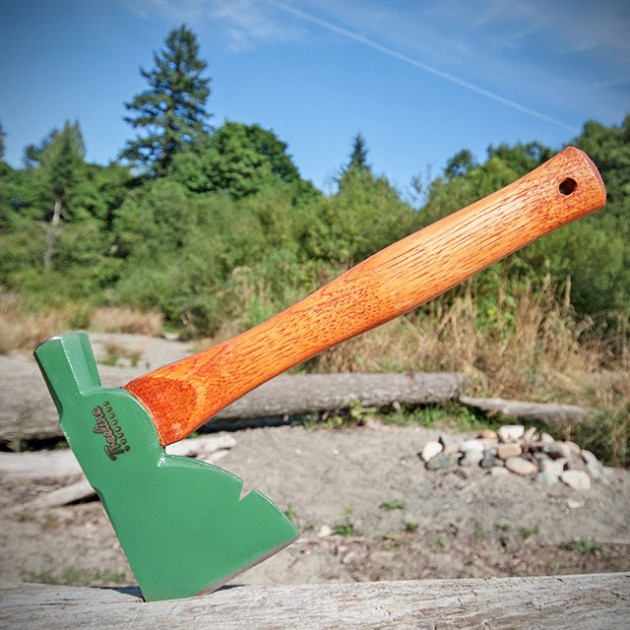 the Hudson Bay Axe is, as its name implies, based on the one of the oldest and most respected axe patterns in North America. it has a compact 2 lb forged high carbon steel head, also coated with forest green paint job to prevent rust and features a graceful, downswept 4-inch polished blade matched to a long, 28-inch Gunstock stained Hickory handle that provides it with a balanced between heavy-duty splitting/chopping tasks and light chores such as branching and kindling. like the Half Hatchet, the Hudson Bay Axe also comes with its own sheath and belt slit to protect the head and for easy carrying. we have seen quite a number of axes here, but for some reasons, these Treeline Outdoors' offerings looks strangely captivating.
and oh, both axes are made in the good'ol U.S. of A and for residents in the U.S. and Canada, shipping is free. the Half Hatchet is priced at $82.74 and the Hudson Bay Axe will run you back at $128.70. keep going for a few more beautiful images.