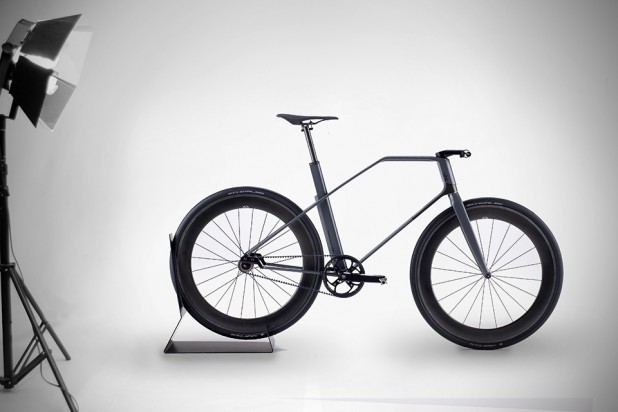 UBC Coren Bicycle | US$32,500.00 | www.ubc-coren.com
do you have a burgeoning bank account and needed a two-wheel pedal-powered bicycle that will stands out, and we do mean really stand out, from the crowd? well, then look no further than the UBC Coren Bicycle. costing a whopping $32,500 a piece, this ridiculously pricey ride is handcrafted by the very same folks, the unsung heroes, that have been producing carbon fiber parts for Toyota's Formula 1 race car and high performance ride like the Porsche GT2. so what you will be getting for in return for a pile of cash is a gorgeous machine that's explicitly branded as UBC and features a unique parallelogram-shaped frame built from a type of carbon fiber typically reserved for race car chassis and we do mean real race car and not your average street racer pedigree stuff. all told, this luscious baby tips the scale at just 17 pounds (7.7 kilograms) and similar to the high-end motorcycles, this fixed speed bicycle uses a carbon-drive belt system instead of the usual chain system.
other key features that your money will get include TRICKSTUFF CLEG 4 four-piston brake with automatic pad adjustment matched with light 160mm MAGURA SL disc brake rotors, high-grade tune PRINCE & PRINCESS Hubs with ENVE 1.45 Carbon Clincher Rims, adjustable SCHMOLKE seat post integrated with rear light, adjustable SCHMOLKE handlebar and saddle wrapped in fine cow hide, high precision CNC-milled stem, CNC-milled fork ends with integrated belt tensioners, maintenance-free patented gates carbon drive centertrack belts, and lightweight BOR 666XC aluminum crank with smart spindle system. if a fixed speed ride isn't your cup of English Breakfast, perhaps you would want to wait it out for a single-speed and an electric pedal-assist variants coming along. scroll down for a few more look at the three variants and a short video clip.