A surveillance camera is a surveillance camera. There are limited ways you can make them less discreet as long as they are cameras. Unless your intruders haven't been out of the cave in the last 100 years, they will know eyes are on them. But French designer Vivien Muller begs to differ. He wants the camera to be seen, but at the same time, not to be seen. His creation Ulo, is super cute surveillance that takes on a shape of a cartoonized owl and is designed to be place out in the open. Because it is so damn adorable that any intruders wouldn't even suspect it is a camera. It doesn't even have a visible camera to begin with, but sure has one, a 720p night-vision capable one, and it is hidden behind a two-way mirror that resembles the beak.
While being discreet, it makes sure the modesty of those who knows it real functionality isn't violated and it does so by making the owl expressive – through a pair of eyes which are actually LCD displays, each measuring 1.22" in diameter. The eyes follow movement and someone snaps a picture remotely from the app, it blinks. When someone is watching the live video stream, Ulo will squint like a person scrutinizing something and if it looks half asleep, it means it is time to recharge Ulo. The expressive way of communicating status is indeed a refreshing one, and one that could add colors and warm to your home as opposed a cold, black or white hardware that beckons for intruders attention and worst, kills your decor.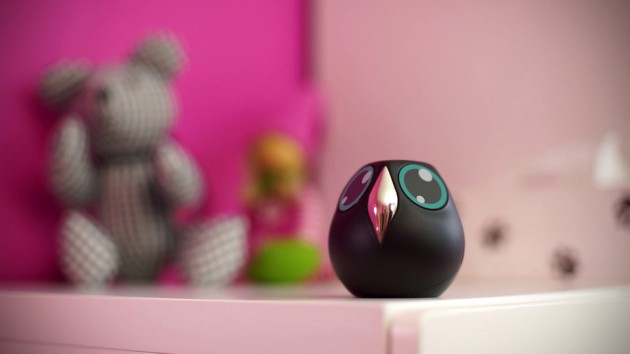 However, beyond that, it is pretty much the connected security camera you'd expect with features like motion detection with push alerts, live video streaming, night vision mode, wireless ac, an onboard microphone. Operation is made super simple too. A single tap turn the cute owl on, while double tap gets the own on its toes. It pairs to your smartphone, so when it leaves your WiFi network, it will start recording every movement in animated gif and pushed to you via email. When Ulo is on alert mode (i.e. on its toes), eye expressions will not be activated. Reconnecting the smartphone, also disable the alert mode. So, as you can see, the operations is dead simple and clearly, it is something this complicated gadget-filled world needs.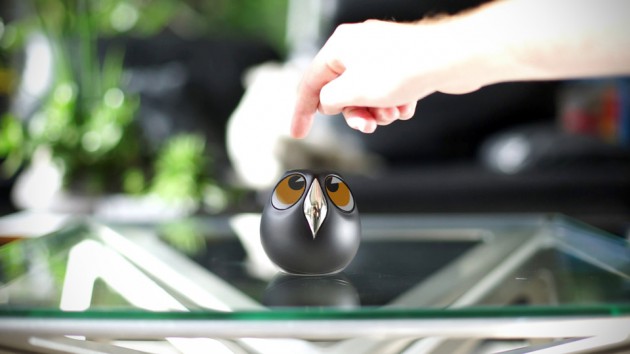 Ulo comes with built-in rechargeable battery, good for a week use, but it can also be tethered to a wall outlet for uninterrupted operation. And it is totally outdoor-friendly too, capable of dealing with temperatures as low as minus ten degrees Celsius to as high as fifty degrees Celsius (around 14-122 Fahrenheit) and like a real, not-so-cute owls, it is waterproof too. Ulo can be access using dedicated app, available for Android and iOS devices, or through a webpage on most devices.
With such a cute and refreshing take on surveillance camera, it is only natural it gets immense attention, which also naturally leads to overwhelmingly strong support on Kickstarter, which is have already rolled in over €900,000 in funding with nearly 4,900 backers behind it. The campaign has 8 more days to go, where you can still secure an Ulo for 149 euros (roughly US$158) with anticipated delivery in November 2016.