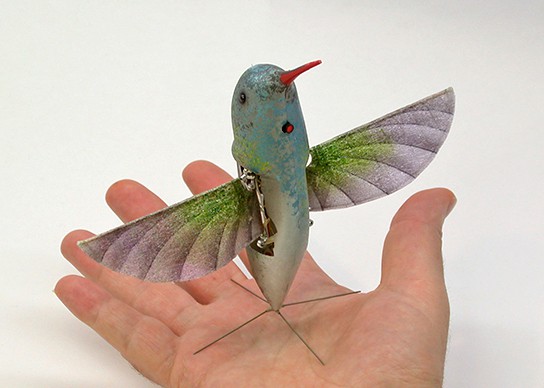 meet Nano Hummingbird, the world's first unmanned aircraft in guise of a hummingbird. developed by AeroVironment, the Nano Hummingbird is part of the Phase II contract awarded by DARPA to design and build a flying prototype "Hummingbird-like" aircraft for the Nano Air Vehicle or NAV program.
[ad#Google Adsense-text-468×60] the demonstrator was hand-made and has a wingspan of 16-cm and weights a mere 19 grams. cramming all the electronic innards necessary including the batteries into such a tiny body and yet having full flight control characteristics is itself, a marvelous technological feat. aside from precision hovering, the Nano Hummingbird can climb and descend vertically, fly forward and backward, fly sideways and as well as rotating in both directions.
the Nano Hummingbird when fitted with a removable body, resembles a real hummingbird, albeit being larger than a typical hummingbird. flapping flying contraption has long been a fantasy of mankind and with such a leap (in development), we are going to see this technology trickling down to commercial sector in no time.
check out the video of the Nano Hummingbird in action after the break. guaranteed to make you go 'wow'. next time i'll be wary if there's a hummingbird around me, not that i'm doing anything illegal but eyes in the sky being disguised as part of the nature do gives me the creeps.
via Gizmag