It seems like every automaker has flocked to the world's biggest consumer electronic show to showoff their "tech-centric" vehicles. Wolfsburg-based Volkswagen is no exception, or should we say a must after the emission fiasco? Understandably, VW has an electric vehicle in tow for this year's CES and it is called BUDD-e. Well, it's a bus, or a van as some would have prefer to call it. To us, it is just an electrified Multivan/California. We are neutral about its look, though. VW must be particularly proud of BUDD-e cos' the press release is freaking lengthy. But not to worry, we will provide you the gist of story to keep boredom to the minimal.
First off, you need to know little BUDD-e here is the first of VW to based on the new Modular Electric Drive Kit, or MEB, and it is touted as the Internet of Things car – the first in the auto world, if we might add. So, it is really gadget that has four wheels, or something like that. Powering BUDD-e is an electric four-wheel drivetrain comprising of a 110 kW and a 125 kW electric motor at the front and rear, respectively, and it has a total of 490 Nm of torque. Under the floor pan is a 92.4 kWh battery setup good for up to 233 miles and thanks to MEB, it can be charged to 80 percent in around 30 minutes. Speaking of charging, it can either charged via power socket, or by inductive charging – befitting its futuristic theme.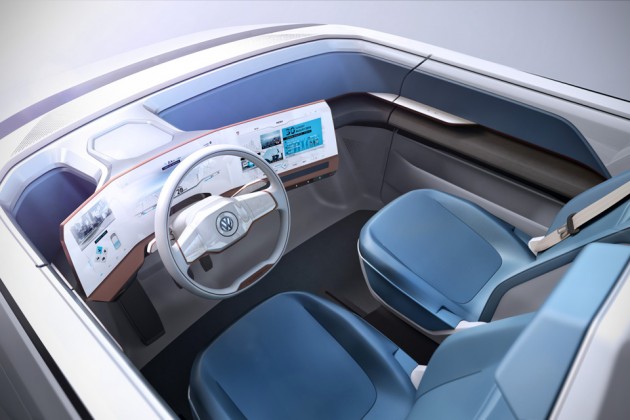 With BUDD-e, Volkswagen also touts a new human-machine interface (HMI) and has an active info display and head unit that merges into an interactive world (read: stuff that you won't see in the real world anytime soon). It essentially has digital display that stretches across the length of the dash. As mentioned, it is a rolling IoT, which means it allows you access your connected stuff in your home right from the car (points up for convenience and laziness).
Other future tech includes program songs to start at specific points on your route and gesture control for doing things like opening doors. Now, who needs door handles, eh? Well, I guess this is as much as you need to know. The rest of the features can easily fill in with some imagination based on the images we have around this post.