So far, smartwatches are mainly designed for urban warriors. You know, people who are unlikely to bash through bushes and things like that. You can't expect Apple Watch to go white water rafting, can you? Absolutely not. The price itself is a warning for you not to let go beyond the comfort the urbanized environment. Thus, there's exist a void and today, Casio stepped in and fill up that void with Casio WSD-F10 Smart Outdoor Watch. It is a smartwatch designed specifically for adventurers and outdoorsmen, powered by the easy-to-use and intuitive Android Wear.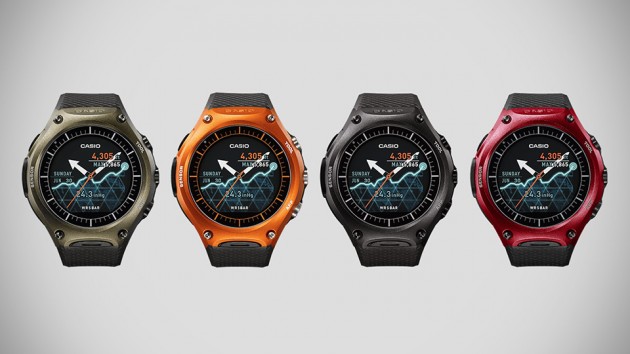 To handle the brute of the great outdoor, it is blessed with 50 meters (165 feet) water resistant and is built and tested to U.S. military standard MIL-STD-810. That means this outdoor smart timepiece will take whatever you can dish out at it, including shock and vibration. As a smartwatch, it is naturally outdoor-centric, equipped with a host of sensors to do things like measuring the changes in the natural environment, track activity levels – just to name a couple. It even works with third party apps to assist you in fishing or hiking, so you can keep your phone in the pocket.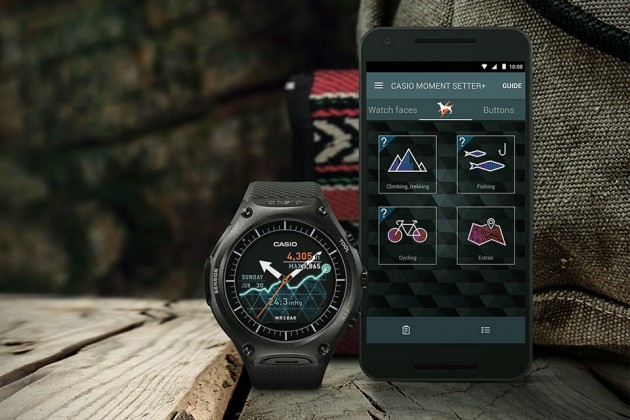 Other technical aspects include the ability to display in monochrome or color – thanks to the 1.32-inch round dual layer display, timepiece mode that only display colorless time info, slip-free finish large buttons for easy operation even with gloves on, lithium-ion battery with magnetic charging terminal, Bluetooth and WiFi connectivity, and soft urethane plastic wristband. The built-in battery is good for a day under normal use, but it can run up to a month if you choose to go with Timepiece mode. It is a pretty ginormous watch though, necessary for the rugged built, measuring a cool 15.7mm thick and the face, 61.7mm by 56.4mm.
Casio WSD-F10 Smart Outdoor Watch works with both Android and iOS (4.3 and 8.2 or later, respectively) and it will be available in Japan this March for 70,000 Japanese money, or about $596. We heard it is heading to stateside too, in early spring 2016. Though we are not sure about U.S. pricing. Check out the product promo video below.