don't you just love concept vehicles? with concepts, there seem to have no boundaries what car designers can throw in, such as having a 20-inch tablet table, state-of-the-art video conferencing and sound systems, and even an espresso machine. in case you are still wondering, yes, we are still talking about a vehicle, but not just any vehicle, we are talking about the Volkswagen TRISTAR Concept pickup truck and the aforementioned equipment are what you find inside its extended cab. set to debut at the 65th IAA Commercial Vehicles show, happening between September 25 right through October 2, at Hannover, Germany, the TRISTAR Concept is described as "multifunctional like a Swiss Army knife. adaptable, reliable and all-rounder" and as you read on, you will understand why Volkswagen made that statement.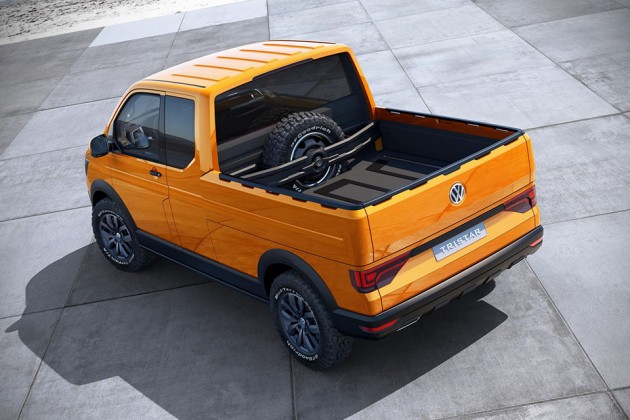 the concept boasts an extended cab, styling bar, short wheelbase for maneuverability, while a permanent four-wheel drive system with mechanical rear axle differential lock and 30mm additional ground clearance ensure this new-age workhorse can tackle even the roughest terrain you can throw at it. we can't help but to notice that the TRISTAR looks much like a cross between a Transporter and an Amarok with a tint of Mercedes' Unimog to it. in short, we think it looks pretty darn awesome. beyond aesthetic, there lies a secret on the bed. the cargo has two separate levels: there is the obvious flatbed section and then there is a hidden, dust proof and watertight drawer under it. and on the inside it is equipped with the aforementioned: a 20-inch tablet table, video conferencing and sound systems, driver and passenger seats that turn and slide, thus transforming the cabin into a mini meeting place. and then there is the espresso machine, providing you and your passenger the much-needed jolt of caffeine while on the road.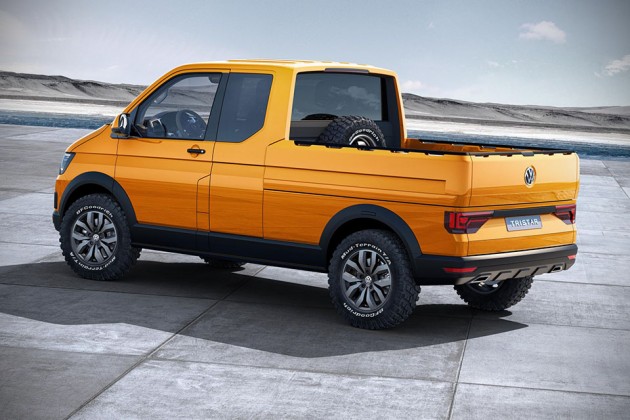 power comes from a 2.0-liter turbo diesel unit producing 201 horses and 332 lb-ft (450 Nm) of torque, mated to a seven-speed DSG gearbox that sends those power to all four 17-inch 'Rocadura' alloy wheels. unlike most commercial vehicles which often dispense with the need for us to know the performance figures, Volkswagen has some numbers for the TRISTAR: it makes a top speed of 185 km/h or 115 miles an hour and is totally capable of sprinting from naught to 62 mph (100 km/h) in mere 10 seconds. that doesn't sounds like much for an automobile, but this is a truck we are talking about, which means 10 seconds is pretty damn quick. the Volkswagen TRISTAR Concept Pickup Truck is, well, a concept and there is no word or even a hint if it will ever see the light of production, but as a huge fans of trucks, we will be keeping our fingers crossed.