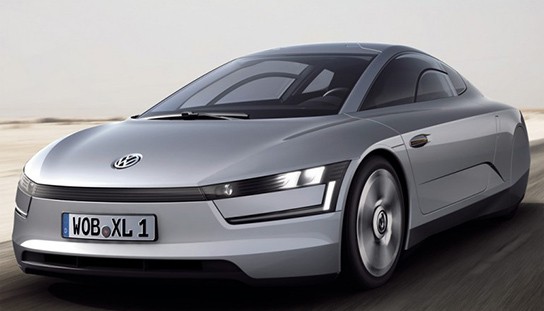 Volkswagen XL1 | US$tba (prototype) | www.volkswagen.com
instead of going all out electric, Volkswagen is banging on a more practical and efficient hybrid system which touted to squeeze out an impressive 0.9-liter per 100-km. this latest prototype, dubbed the VW XL1, is the third generation ultra-fuel efficient car with a CO2 emissions of just 24 grams per km. Volkswagen attribute this impressive achievement to the lightweight monocoque construction, carbon fiber parts and an excellent aerodynamic form which results in a drag coefficient of 0.186. the choice of materials resulted in an extremely lightweight vehicle, weighing in at just 795-kg.
powering the XL1 are a two-cylinder TDI engine that's capable of generating 35-kW of power and a 20kW electric motor. needless to say, transmission for a VW would be the 7-speed dual clutch transmission. on the performance end, the XL1 reaches the 100 km/h mark from standstill at a modest 11.9 seconds and has an electronically limited top-speed of 160 km/h. while there isn't much to shout about in the performance department, we have to keep in mind the ultimate objective of the XL1 is to achieve a 1-liter per 100-km fuel efficient vehicle. besides, the look of the 2-seater coupe, is simply gorgeous. don't you think so?
via Gizmag