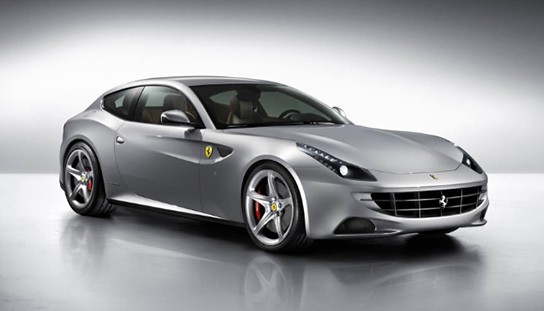 (image credit: Ferrari) Ferrari V12 FF | US$tbc | www.ferrari.com
having four-seats and a four-wheel drive system doesn't sound much like what Ferrari will do. on the contrary, that's what the new Ferrari FF is: a four-seater, four-wheel drive supercar. don't be deceived by the 'FF', which has absolutely nothing to do with 'front-engine-front-wheel-drive' but rather, it's an acronym for Ferrari Four i.e. four seats and four-wheel drive.
[ad#Google Adsense-text-468×60]
powering the FF is a 6262-cc, 12-cylinders 65DEG V-engine pumping out an incredible 660 prancing horse power and 683-Nm of torque. the FF features not only the company's first ever four-wheel drive but an exclusive, patented 4RM which is touted to weigh 50 per cent less than a conventional four-wheel drive system, enabling a 47/53 per cent weight distribution over the front and rear axle, respectively.
being embodied with the two firsts for Ferrari, it is only befitting that the FF be equipped with the latest magnetorheological damping system, as well as the carbon-ceramic brakes from Brembo. the lethal combinations of a V12 engine, transaxle dual-clutch F1 gear box and 4RM, rockets the FF from standstill to the century mark in just 3.7-seconds and has a top speed of 335 km/h.
designed by Pininfarina, the FF is a sub-4 seconds supercar that seat four people comfortably and boost a 450-liters boot capacity, which is extendable to 800-liters. the new Ferrari FF will make its official debut in the upcoming Geneva Motor Show.
UPDATE: Ferrari releases new dynamic images of four-seater FF (new photos via autoblog)