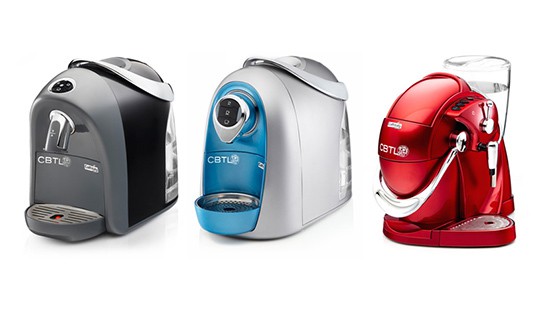 (image credit: CBTL) CBTL Single Serve Coffee Machine | from US$129.95 | www.cbtl.com
if you are a fan of the Coffee Bean & Tea Leaf's coffee and always find yourself too lethargic to make it to the nearest store for a shot of the caffeinated beverage, well, you can always make yourself one right at home with the new CBTL single serve coffee machines. three models are available, with the entry model 'contata' costing $129.95.
general features across the three models are automatic proportioning, electronic temperature control, easy capsule insertion and automatic ejection, and diagnostic lights. all three models has a removable 40.6 oz (1.2-liter) water tank. among the three models, 'nautilus' is on the higher end of the scale with a droid looking design (apparently, it resembles a nautilus) and has a integrated froth/steam wand. another difference is the 'nautilus' used capsule drawer is capable of holding 15 used capsule instead of the standard 10.
two of the three Coffee Bean & Tea Leaf single serve coffee machine are available now from CBTL official website and prices start from $129.95. the 'nautilus' retails for $199.95 and will be available from Fall 2011. these machines aren't ridiculously priced as compared to the current offerings in the market and provides coffee-drinker (specifically, CBTL's fans) a quick fix of caffeine before the 'withdrawal syndrome' takes a better of them.