Can a go-kart considered a transportation device? Of course, not, but if you have the Segway Ninebot Electric Drifting Gokart, it would be a different story. Designed to work with Segway miniPRO, this game-changing go-kart kit will transformed a miniPRO into a full-fledged go-kart, complete with drifting capability. With it, if you ever need to commute, all you have to do is to detach the miniPRO out of the gokart and you are good to go. It is touted as the first go-kart that is made to drift and one that has an insane acceleration that clocks in a 0.7g.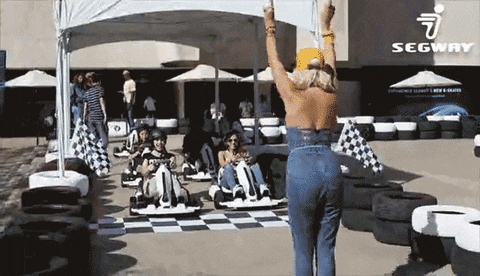 Granted, 0.7g isn't a lot, but it sure is a big deal for a vehicle this small. Speaking of acceleration… its 2 electric motors enable it to get from 0-12 mph in a blink, or 2 seconds, to be precise. Technically speaking, it is faster than most car on the roads, except that it can go at automobile speeds. It is outfitted with electric brake for stopping. In addition, a mechanical handbrake, which is primarily use to execute drifting, can also be is to stop the vehicle in the event the electric brake fails.
It has an adjustable frame to accommodate rider height ranging from 4' 5" to as tall as 6' 3" (1.3-1.9 meters) and it has a reverse gear – something which you don't find on today's go-kart. Moreover, it boasts a super tight steering ratio of 2.1:1, giving it the nimbleness much needed in a vehicle like such. There are three driving modes to suit driving skill level. Novice mode (top speed of 5 mph or 8 km/h), standard (10.8 mph or 18 km/h) and sport mode that tops out at 15 mph (24 km/h).
Segway Ninebot Electric Drifting Gokart has a pretty dang long battery life, affording you up to a range of 12.4 miles (20 km) before needing to be recharged. Plus, recharging it to full takes just 3.5 hours. Finally and very importantly, it is collapsible to form that fits into most trunks, so you can bring it to wherever you desire. Like many of Segway Ninebot's products, this go-kart is app-enabled too. With the app on your smartphone, you will be in the know the driving speed, cruising range, and even fault reminders in real-time.
Additionally, you will be able to access new rider tutorial, control lighting, set driving modes, as well as get firmware updates when it becomes available. Other notables include a non-stick coated steering wheel in matte finish, racing-style seat (kind of like a half-bucket seat), a sturdy body frame with up to 220 lbs (100 kg) payload, non-inflatable hollow rubber tires, dual transmission system (wired and Bluetooth as backup), and an impact-reducing front end.
Segway Ninebot has taken to Indiegogo where you can pre-order a unit for anywhere between $669-1,248. However, if you want one, be sure to act in the next 24 hours or so because, this discounted price will end in a day or less.
Images: Segway Ninebot.