along with the announcement of the firm's first tablet, Xiaomi also unveiled its second Smart TV, simply called Mi TV 2. now, don't let the ultra simplistic, less than bombastic product name fool you. this second smart TV offering from this fast growing Chinese handset maker is a 49-inch Ultra HD TV equipped with a 4K 3D panel with 178-degree viewing angle, flanked by alluring 6.2mm aluminum bezel. under the skin, there is a MediaTek MStar 6A918 SoC, featuring a 1.45GHz Cortex-A9 quad-core processor and a quad-core Mali 450 MP4 GPU, and 2GB RAM. it has 8GB of built-in storage, expandable up to 64GB via microSD card slot. in what we thought as a surprise design move, Xiaomi chose to separate the audio reproduction unit from the TV, which should be the first in modern TV history, to keep the profile down to the minimum. the separate audio comprises of a sound bar with 2.25-inch full-range drivers with "acoustic waveguide technology" and a Bluetooth 8-inch subwoofer. the audio system is fully capable of handling Dolby and DTS too.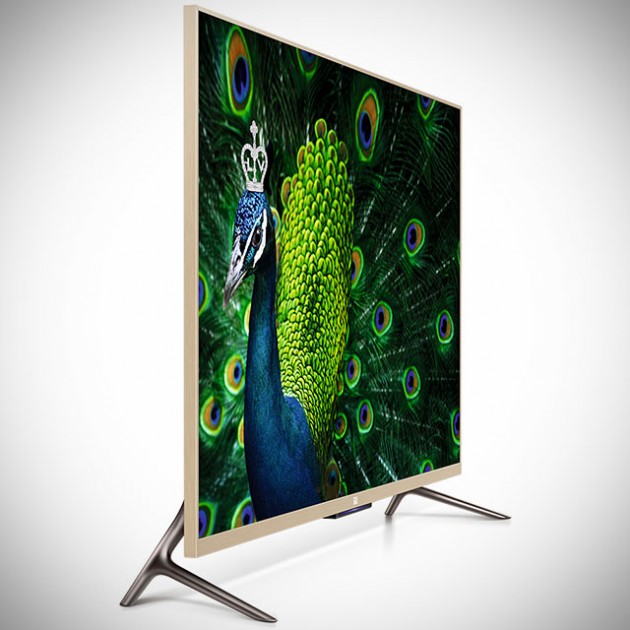 interestingly, it has a Bluetooth LE remote as oppose to the traditional infrared variant which means line of sight for control is a thing of a past and with the Bluetooth remote, it also solves an age-old remote-era problem: losing your TV remote. with a tap on the bottom of the TV, the remote will beep so you can locate it easily. the TV can also be control via a remote app and allows you use gestures and voice to control the TV and also check up on the info of the show you are watching. but those are fairly regular stuff by today's standards. other key features include dual-band WiFi 802.11 a/b/g/n/ac, Bluetooth 4.0 (of course), three HDMI inputs, SPDIF out, Ethernet port, and a pair of USB interface. last but not the least, the TV runs on Android 4.3 OS, overlay with MIUI TV skin. the Xiaomi MiTV 2 4K TV is slated to be available in China on May 27 for 3,999 Chinese dollars, which is only about US$642. can you imagine that? 600+ for a UHD TV? anyway, awed as we might, but most of us outside of China probability won't be seeing one on our shores.
p.s. and unlike most mass-market TVs, Mi TV 2 will be available in a slew of colors, you know, to turn it into a living room art piece.