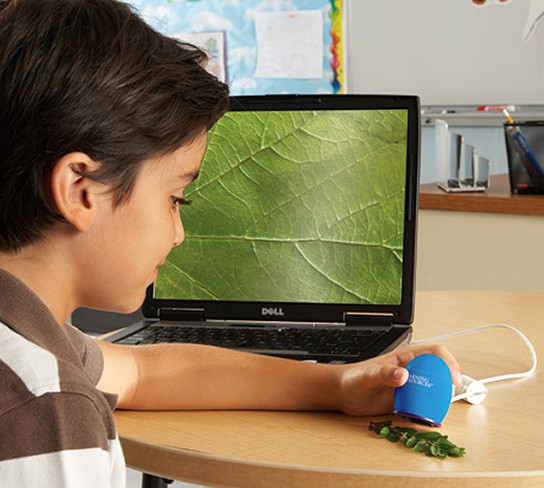 (credit: Learning Resources) Zoomy Handheld Digital Microscope | US$59.99 | www.learningresources.com
when i was a kid i was totally fascinated by the world of science and therefore it was no surprise that i had longed to own one of the scientist's essential – the microscope. i am pretty sure kids of today are as curious as i was when i was a child and lucky for kids of today, they will have things like Zoomy Handheld Digital Microscope to do some real kids scientist work like zooming to the pores of the leaf et cetera.
instead of peeking into twin lens device, all the kids of the 21st century has to do is to plug the Zoomy Handheld Digital Microscope into the USB port of a computer, launch the program for Zoomy and the child is all set to view, video or take still images from 35 to 53x magnification. it even comes with a LED light to illuminate the subjects when required. its VGA CMOS sensor allows for a resolution of 640 x 480 pixels that is interpolatable up to 1200 x 1600 pixels). though the specs department may not be be something to shout about but it is enough to make me want one. i only wish i had this kind of high-tech learning tools when i was a kid.
compatible with both Mac and PC (XP and up), the Zoomy Handheld Digital Microscope retails for $59.99 a pop and is available directly from Learning Resources website.