More often than not, the protagonist's car in a movie can easily turn into an iconic ride, but in the case of The Fast and the Furious, Paul Walker's character, Brian, 1995 Mitsubishi Eclipse didn't quite turn iconic for reasons most car lovers know. Not that 4G63 is any bad, but seriously, a front wheel drive machine can be hardly called a sport car for some. We can't argue with the design though, but the 10s car and American Muscle with "too much torque" kind of stole the show. No, wait. Actually, there was another car that managed to steal bits of the limelight; the 1995 Volkswagen Jetta, Jesse's (played by Chad Lindberg) ride which he lost to Tran's Honda S2000 in a drag challenge. Whenever I see that scene, I can't help but to shake my head. Man, what the hell was that boy thinking? Going up against a rich dude's ride and a S2000? Gosh…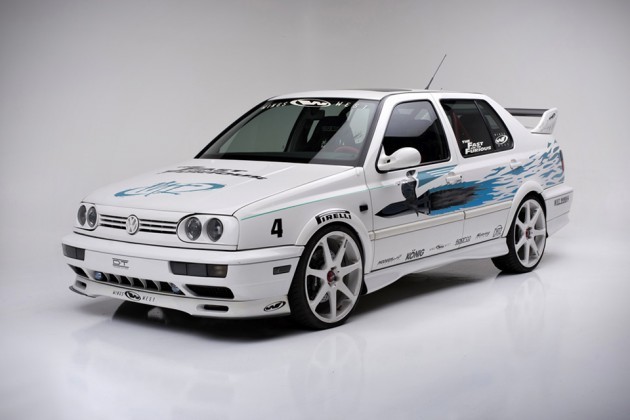 Anyways, we may not know the fate of Jesse's ride (was it ridden with bullets?), but in real life, it was put under the hammer at the recent Scottsdale auction organized by Barrett-Jackson Auction Company. Not surprisingly, the auction for the 1995 Volkswagen "Fast & Furious" Jetta didn't quite shine, but it was successfully auctioned, nonetheless, for a decent $46,200. The car's former owner was a Fast and the Furious fan by the name of Frankie Muniz, who acquired the ride when he was just 16 years old in 2002. The car is exactly what you have pictured: the graphics and the aero kit as it was seen on 2001 movie, plus the requisite PS2, along with custom audio. Apart from those, it has something extra: the car was signed. Not just by the man who lost the car himself, but also by Paul Walker, as well as director Robert Cohen.
While the car looks every bit like it was in the movie, it does not have the purported "12 gear"; instead it has a standard 4-speed automatic (maybe that was why Jess lost?) and I am pretty sure nitrous doesn't come standard either. Though, we are not sure if those nifty buttons are in there for aesthetic sake.
P.S. You can relive Jesse's lost in the embedded video below. Try not to shake your head…