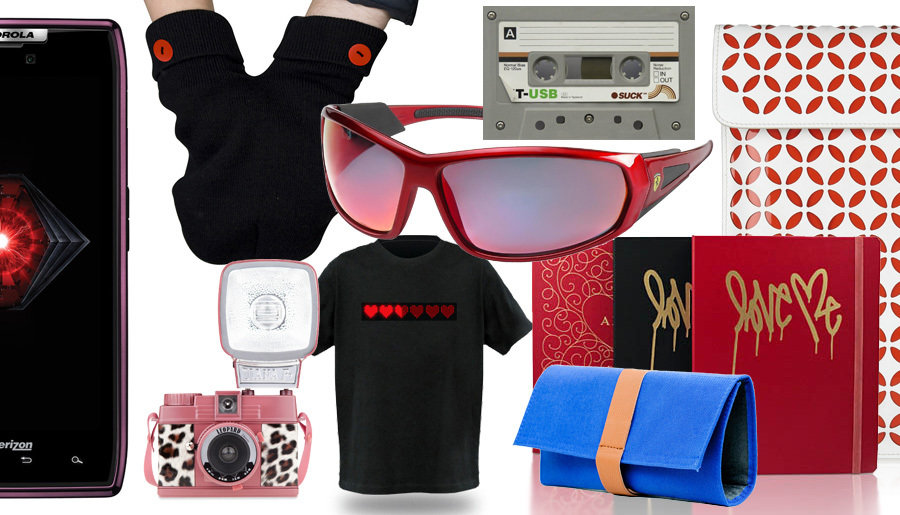 it is the time of year again. a time where we put down our hard earned dough and acquire something for our love ones. while some may argue that their love and affection are the greatest gifts that they could shower on their love ones but we beg to differ. don't get us wrong: we agree with the love and affection but those two virtues should be there by default but since we have such a special date on our calendar, why not use it as an excuse to shower our love ones some things that money can actually buy. in case you are still at loss in the gift idea department, we have compiled a short list of things that you can buy for this upcoming, once-a-year occasion. sit back, relax and read on.
DODOcase Valentine's Day Edition for iPad 2 & Kindle Fire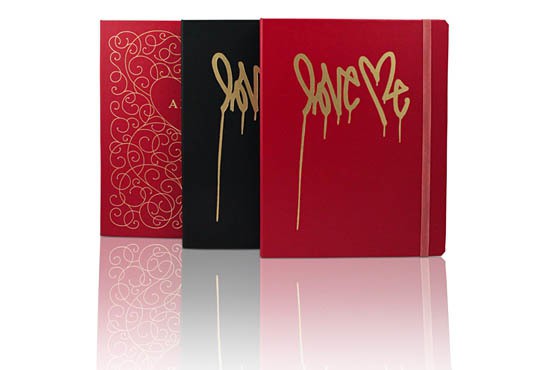 (photos: DODOcase) Love Me DODOcase & Vintage Love DODOcase | from US$69.90 | www.dodocase.com
modern people uses gadget, well, mostly and so i suppose gadget accessories are something of a wonderful gift ideas. especially so if you love one prefers practical, usable stuff to decorative gifts. speaking of which, DODOcase has three new limited edition cases for your love ones' iPad 2 or Kindle Fire. crafted by DODOcase signature traditional bookbinding techniques with Moroccan cloth, along with environmental friendly bamboo, which bestow your otherwise cold gadget with a touch of traditional bound book look. the first two cases, entitled Love Me DODOcase features NY street artist Curtis Kulig's most notable design, "Love Me" scrawled in gold on the front cover of the DODOcase. the Love Me DODOcase is available in either a black exterior and gold detail, or with a red exterior and gold detail. the Love Case's Prom Night style wordings scrawled over on a cover is not for everyone, and that's where the more traditional Vintage Love DODOcase comes in. the Vintage Love DODOcase has it's case cover decorated with ornate design that reflects the traditional details that were characteristics of the books of the 19th century. the Love Me DODOcase and the Vintage Love DODOcase cost $69.90 for the Kindle Fire model, while the iPad 2 version will set you back at $79.90.
Wild At Heart – Lomography Valentines Cameras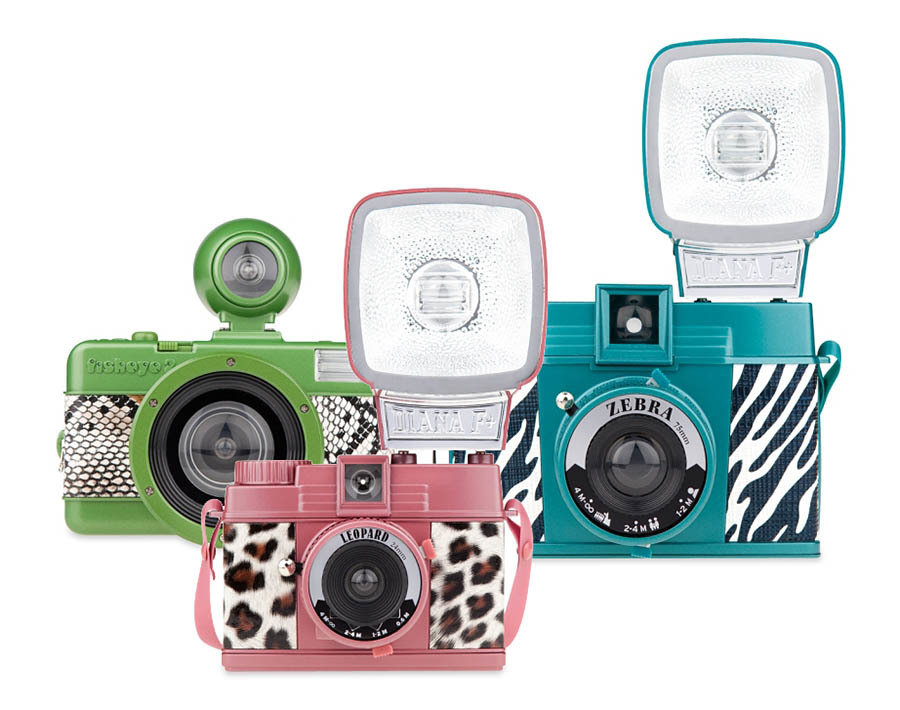 (photos: Lomography) Wild At Heart – Lomography Valentines Cameras | from US$89.00 | www.lomography.com
it is true: not every Valentines adore being douse in all red or pink on this special occasion (or any other occasion). there're times where we want to break free from traditions and let loose the the beast in us, and embrace the prints like zebra for the mildly wild personality, or maybe a little slithering wildness in the form of snake skin prints, or maybe even a leopard print to wake up the beast in you or your love one. just maybe. if you are ready to shake off those tacky pink (or red) hearts and the cliched cuteness that the tradition of Valentines are associated with, then grab yourself one (or all) of these popular Lomography lo-fi cameras covered in wild prints: Diana F+ Zebra ($99), Fisheye No. 2 Python ($89) and Diana Mini Leopard ($109).
Mix Tape USB Drive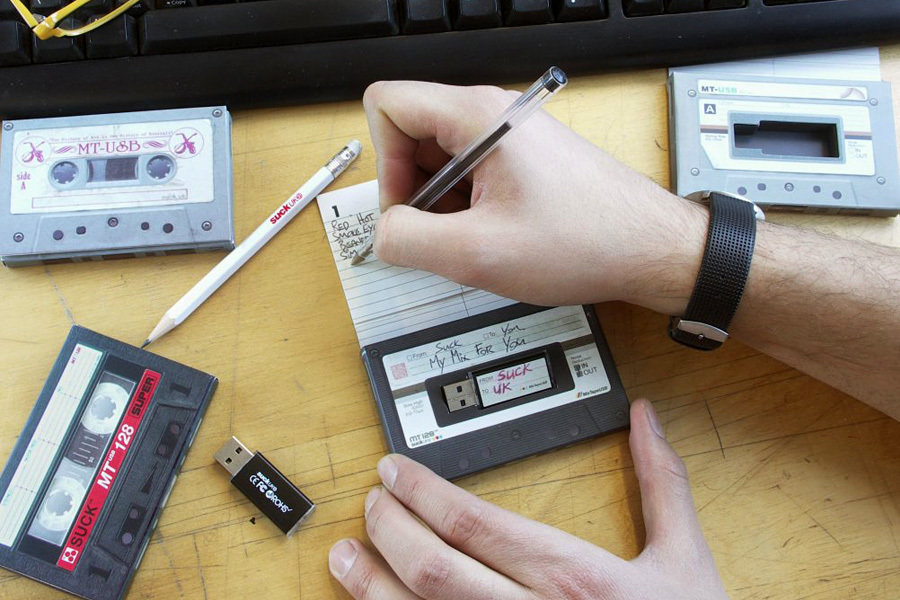 (photos: Suck UK) Mix Tape USB Drive | £20.00 | www.suck.uk.com
remember the days where you spend hours on end to dub your favorite mix tunes onto a single cassette tape so that you could enjoy all your favorites without switching tapes? guess what? you could do it all over again for your love one but this time, he or she wouldn't need the old cassette tape deck to spin those tunes. thanks to the magic of USB flash drive. don't you just love technology? each nifty flash drive offers 1GB of capacity and comes packed in a tape-style gift pack. all you have to do is to compile your Valentine's favorite tunes into the USB flash drive and write your own message, and if you desire, the playlist on the inside of the 'tape'. the Mix Tape USB Drive is available in six different designs and cost £20 a pop (about US$32).
Motorola DROID RAZR Captivating Purple Edition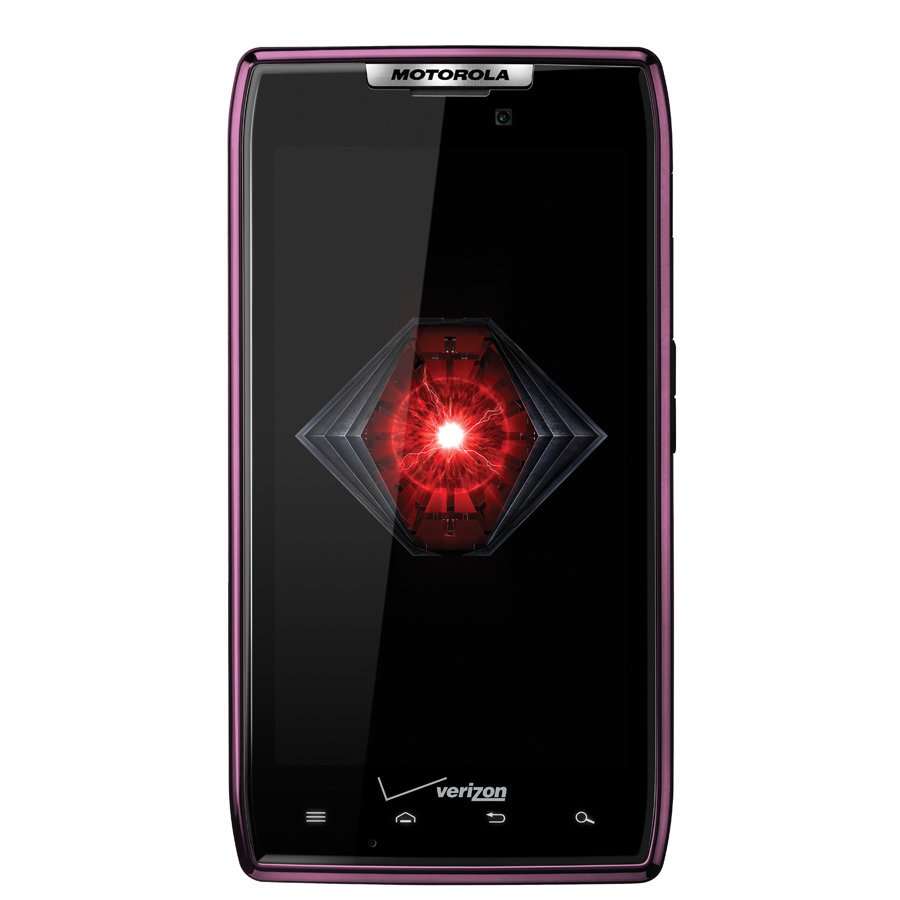 (photos: Motorola Mobility) Motorola DROID RAZR Captivating Purple Edition | US$599.99 | www.motorola.com
if you are planning to grab a smartphone for your love one this February, you probably want to purchase a handset that's not only feature-rich and cutting edge but also let your love one feel a little special. already nodding in agreement? good, then the Motorola DROID RAZR Captivating Purple Edition is just the smartphone you need. it has everything that the latest RAZR has, including Corning Gorilla Glass, KELVAR fiber, splash-guard coating, a dual-core 1.2 GHz processor with 1-GB RAM, a glorious 4.3-inch Super AMOLED Advanced touchscreen display, 8.0-megapixels main camera with LED flash, a HD front-facing camera and of course, supermodel thin 7.1 mm profile. needless to say, it is powered by Android (upgradeable to 4.0 aka Ice Cream Sandwich) and is 4G LTE capable. and our favorite part? it can be purchase for $599.99 without tying yourself to a contract.
Limited Edition F2012 Sunglasses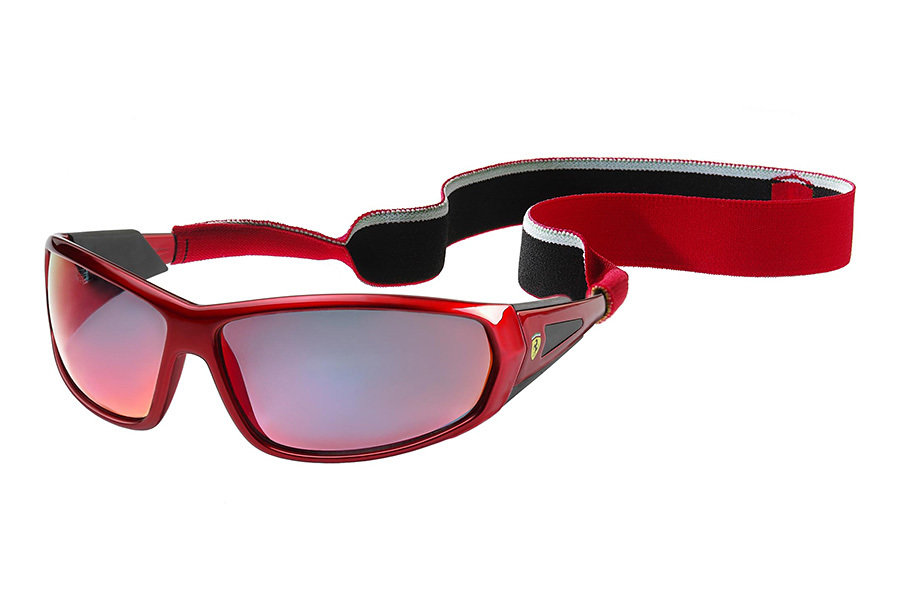 (photos: Ferrari) Limited Edition F2012 Sunglasses | US$131.00 | store.ferrari.com
unless you are wearing prescribed glasses, sunglasses should pretty much for everyone and so in retrospect, it is considered quite a 'safe' gift for most dudes. since its the once-a-year special event, your probably want something special – that something could be this pair of Limited Edition F2012 Sunglasses. this pair of wrap around sunglasses features a striking metallic red frame, REVO multi-layer polycarbonate optics, and comes package with an elastic cord customized with the prancing horse logo. the Limited Edition F2012 Sunglasses retails for $131 a pair.
8-Bit Dynamic Life Shirt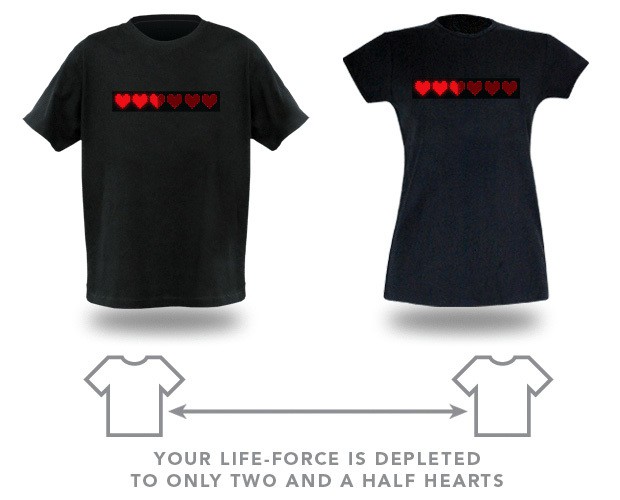 (photos: ThinkGeek) 8-Bit Dynamic Life Shirt | US$17.99 – US$24.99 | www.thinkgeek.com
until now, Valentine's Day gifts are either for him or her but not for both. why should that be the case? the 8-Bit Dynamic Life Shirt featured here is just one of those that is best bought in pair, which essentially making it the gift that's designed for both him and her. the tees may look like any regular tees but let me assure you that they are not. a set of animated pixelated heart decal (six of them in total) adorns the front of each tee shirt and during your normal activities, two and a half pixelated hearts will light up and when your significant other (he, she, your lovely love doll or android et cetera) wearing the same tee comes to a hugging distance, the pixelated hearts of both tees light to full power. this is by far, the most meaningful gift we have seen. the animated decal is removable and the battery pack are removable to facilitate washing, so that your the undying love of you lovebirds won't go dirty and smelly. lonely soul do not fret. you can profess your love to your trusty Playstation 3, iMac or whatever by placing an optional transmitter pack near them and the same power of love will materialize. prices of the 8-Bit Dynamic Life Shirts range from $17.99 – $24.99 and are available from our favorite geek store, ThinkGeek.
The Smitten – the glove of love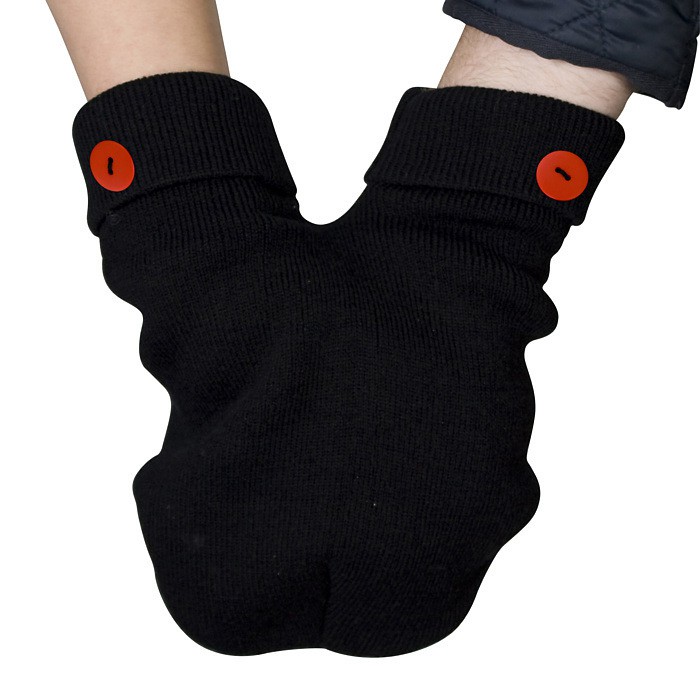 (photos: FireBox) The Smitten | £24.99 | www.firebox.com
couple's displays their public affection daily through variety of actions, which include smooches, holding hands and some other NFSW activities (which shall not dwell into the latter). whatever it is, we are pretty damn sure that winter or extreme cold weather is going to take toll on at least the hands holding ritual. yes, you still can hold hands but there's not much of 'affection' to it with those thick winter gloves in the way, doesn't it? that's where The Smitten comes in. it is a ridiculous idea – for both its simplicity and the concept on the whole. The Smitten is basically a woolen smitten that has two hand holes, one for yourself and the other, for your significant other. thanks to The Smitten, you can now hold and feel each others' naked hand even on the long cold winter. i know it sounds a little silly and it will most certainly invite stares, along with sniggering but let's see who will have the last laugh. oh, The Smitten does come with a pair of normal gloves – one each to keep the couple's other hand warm. The Smitten aka the glove of love cost £24.99 (about US$40).
The Tabletop Bluetooth Speakerphone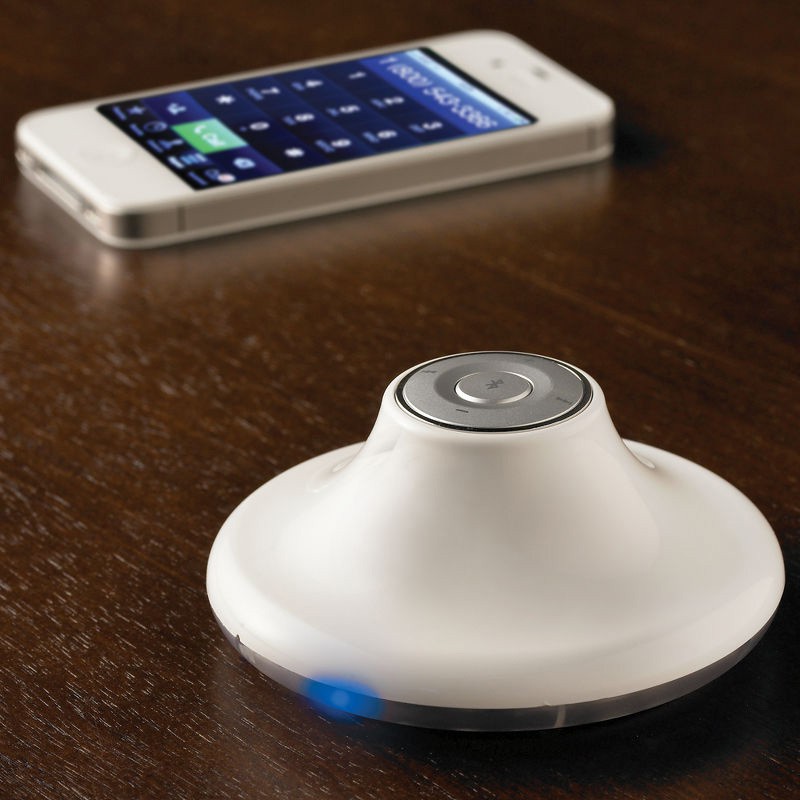 (photos: Hammacher) The Tabletop Bluetooth Speakerphone | US$89.95 | www. hammacher.com
you know your other half is perpetually busy. sometimes so way over the top busy that he (or she) don't even have hands to answer your call. time to put a stop to that nonsensical 'hands too busy to take your call' bulls and grab him (or her) this beautiful The Tabletop Bluetooth Speakerphone. when paired with a Bluetooth-enabled smartphone, this UFO-like device acts as a speakerphone and also doubles as a wireless music speaker. what makes this so special is that it has no traditional drivers but instead, it has a 2-watt flat-panel speaker that uses the patented NXT Surface Sound Technology to reproduce the sound through the surface that it sits on. other features include 30-feet (9-meter) Bluetooth range, music control buttons on its top, small foot print (3.5-inch or about 89-mm), magnetic base for attaching to metal surfaces and a built-in rechargeable lithium battery that for up to 16-hours of talk time on a single two-hour charge. The Tabletop Bluetooth Speakerphone will set you back at $88.95 a pop.
ALAÏA perforated leather iPad case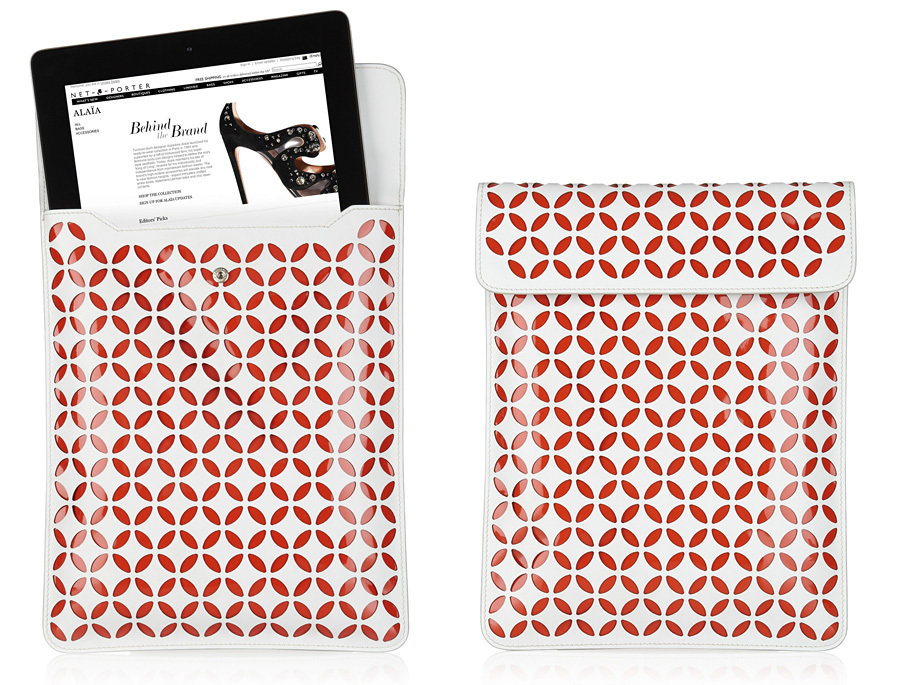 (photos: Net-A-Porter) ALAÏA perforated leather iPad case | £419.09 | www.net-a-porter.com
still not sure what to get for your love one after the reading through the eight items listed above? well, how about this gorgeous ALAÏA perforated leather iPad case? this white perforated calf leather case for iPad features a red patent-leather underlay, blush leather lining, snap-fastening fold-over flap and like most designer's goods, it comes with its very own dust bag. the case has more dimension to it, attributed by the combination of the perforations and underlay, which certainly stands out from the sea of iPad case offering in the market but of course, such exquisiteness is not without its price. the ALAÏA perforated leather iPad case will set you back at £419.09 each, which is about US$662, based on the current going rate. wow.
The iPhone Lens Wallet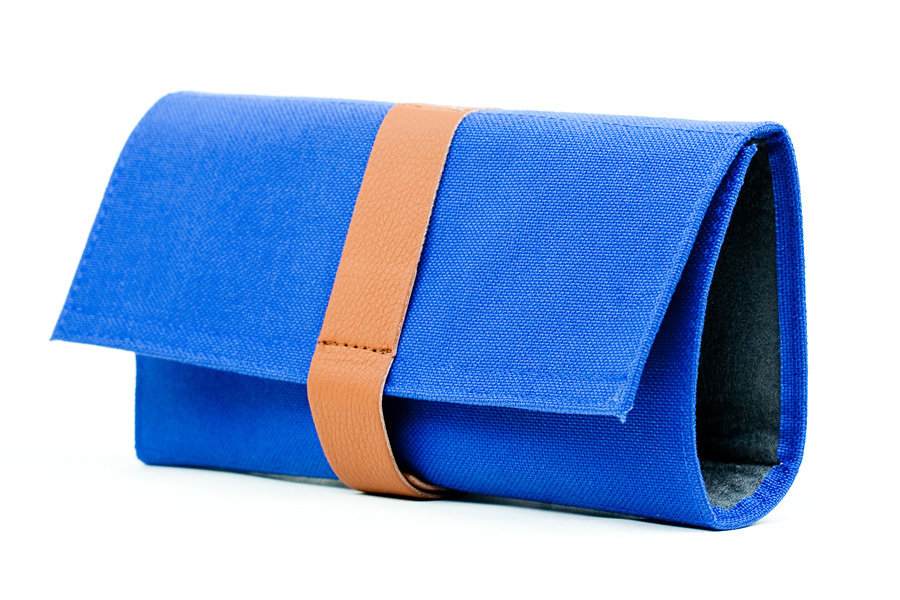 (photos: Photojojo) The iPhone Lens Wallet | from US$15.00 | photojojo.com
DSLR-toting photographers always look sharp with its lens' bag but with the rise of iPhonegraphy, iPhonegrapher shouldn't be left out in the cold looking like some alien species. hey, we have lenses too, so why should we go without a proper bag and risk breaking them (the lenses) in our pockets? The iPhone Lens Wallet is just what any iPhonegrapher needs and could just be the ultimate savior that will save you from your style dilemma. this is not just any bag, it is a purpose-built bag that is destined to store and protect your magnetic cell lenses in one stylish package. the case features a tough nylon exterior, a soft felt interior that will not mar your lenses, a built-in magnetic strip to hold up to three lenses, a side pocket for your 8X telephoto lens and a vegan leather snap closure to hold it close, ready to be thrown into any bag when you go on your next iPhonegraphy expedition. get it for just $15 (bag only) or $79, with the iPhone Ultimate Kit that comes packaged with four lenses.