somewhere between practicality of everyday driving and performance, there is the 2015 Ford Focus ST which combines the spaciousness of a five-door hatch and the performance pumped out by Ford's 2.0-liter EcoBoost engine. with 252 horsepower available at just 5,500 rpm and 270 lb-ft of torque at 2,500 rpm, the 2015 Ford Focus ST is certainly no tame family car. it is one of those rides that looks pretty, lets your drop kids at their soccer practice, while still capable of burning some serious rubbers when you need to show those average punks the reasons not to mess with you. officially unveiled at the 2014 Goodwood Festival of Speed, the latest iteration of the top-of-the-range Ford Focus is blessed with sports suspension featuring all-new front springs and sportier shock absorber tuning front and rear for sharper dynamic performance, while revised electric power-assisted steering improves the steering feel and reponsiveness.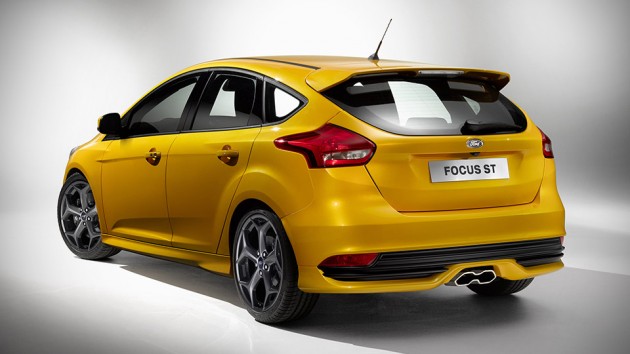 it has, of course, the look inside and out to match its prowess, including a beautiful aero kit comprising of side skirts, diffuser, sculpted front spoiler and hood, a rear roof spoiler and a cockpit-style cabin. other details include a six-speed manual gearbox with short-throw shifter, HID headlamps, LED signature lighting, center hexagonal twin tailpipes, red brake calipers, 18-inch Rado Gray alloy wheels and on the inside, there is a newly designed center console with tons of storage space, a new media bin with USB smart charging port, a leather-wrapped flat-bottom steering wheel, rear view camera, additional three gauges displaying turbo boost pressure, oil temperature and pressure, ST pedals, and a choice of three trim levels for the interior.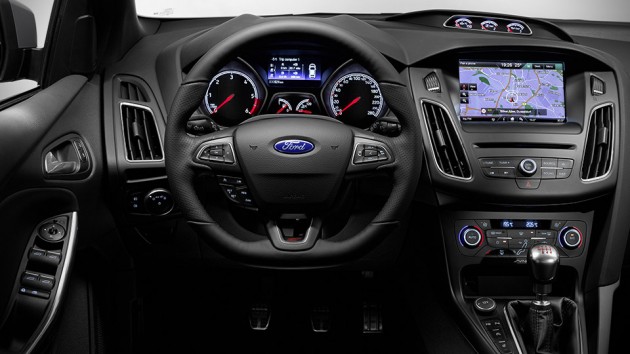 the 2015 Ford Focus ST will also come standard with the host of advanced technologies first introduced earlier on its 'lesser' iterations, including driver-assist, Ford SYNC and more. no word on when it be available or how much it will be priced at. in the meantime, treat yourself to some limited but awesome imageries available on this post and start setting up a 2015 Ford Focus ST fund in case it becomes rolling into your local dealers.