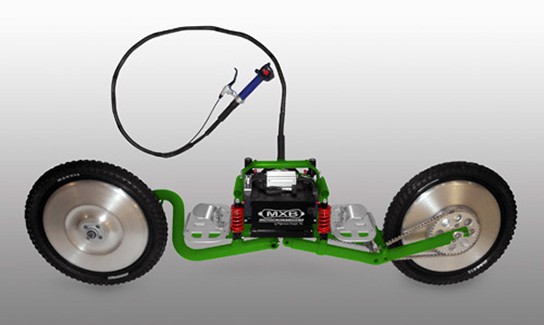 (photo credit: motocrossboard.com) MXB Shocker Motocrossboard | from US$2,999 | www.motocrossboard.com
welcome the 21st century skateboard. while hover board has yet to be realized, we have to make do with the electric powered skateboard, and one that can go off road. Performance Concepts has a 2011 MXB Motocrossboard that is electric powered and can go off road. sounds cool? read on.
[ad#Google Adsense-text-468×60]
powering the MBX Motocrossboard is a high torque, 48v brushless motor, capable of 2HP and 4.73 ft/lb of torque. an automatic, single speed transmission transmit the power from the electric motor to two 6061 T6 aluminum wheels wrapped in 20 x 2.25 tires. braking comes in the form of rear disc brake.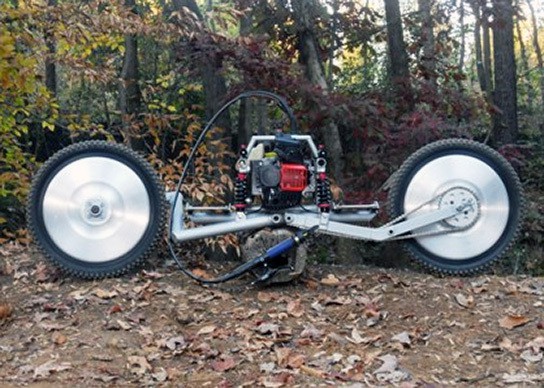 since its capable of off road riding, suspension is a must. the MBX features an adjustable coil-over suspension with oil-damping shocks. the MBX has a range of 18 miles on one single two-hours charge and capable of a top speed of 20 mph. the top speed is limited to 20 mph but with some tweaks to the gearing and the programmable controller, it is capable of achieving higher speed.
throttle and braking input is via a handheld control unit attached to the board by a cable. as with snowboards and skateboards, steering is achieved by leaning the MBX from sides to sides. holding everything together is the 4130 Chromoly tubing frame, bringing the overall weight of the MBX to 74 lbs.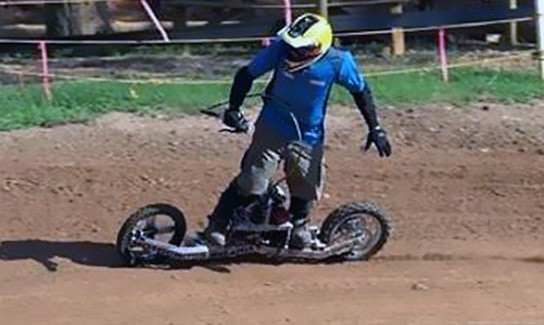 i was a huge skateboard fans in the early nineties and the MBX is certainly an exciting news to me personally (yeah, even at this age). 20 mph may seems nothing much but standing up on it with two legs apart at that speed is certainly something. while seasoned or experts may feel the need for speed, which the MBX certainly can fulfill that department with further tweaks as mentioned earlier.
via Gizmag