if you're a geek, you probably want a watch that says who you are (i.e. geek). we are not talking about some fancy LED face watch or designer's item but a watch that does more than just telling time. here's a hit list of our favorite geek watches.
MicroSD Card Reader Watch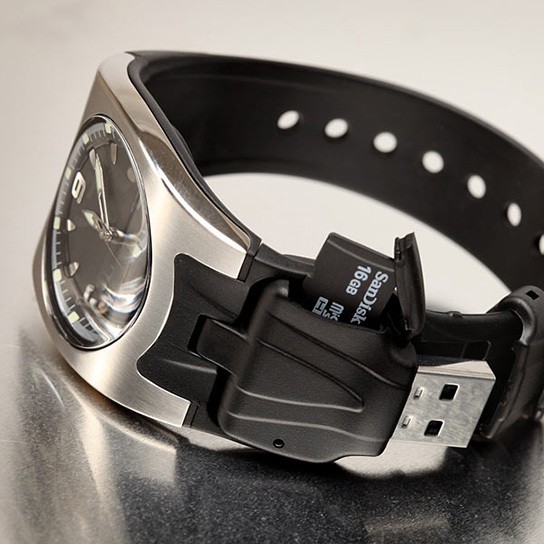 (image credit: ThinkGeek)
needless to say, this watch tells time and it is also a MicroSD card reader. the watch features a stainless steel bezel, back cover and buckle and reads MicroSD card without the need for an adapter. all it need is an USB cord, and of course the MicroSD (not included) that you want to read.
[ad#Google Adsense-text-468×60]
gone were the days where spies has to sneak a flash drive to copy some top secret data. you can do it with this watch and thereafter, retrieve the MicroSD card and pass it on to your secret boss-in-command. not that we encourage you to be in the field of espionage but this watch really inspires us.
the MicroSD card reader watch is water resistant, shock and static-proof and it works with Windows 98/2000/XP/Vista/7 and Mac OS 9.1 or higher.
USB Memory Watch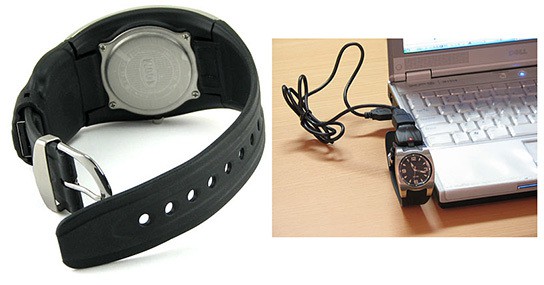 (photo credit: thinkgeek.com)
if don't use MicroSD, the above watch is of no use to you but that won't jeopardize your chance of geeking up your wrist. the USB memory watch, er.. tells time and is a flash drive at the same time. it comes in 2GB, 4GB or 8GB storage capacity and it has a built-in USB connector.
just flip the USB connector up, use the provided USB extension cord connect to your computer and you are good to go. a LED indicator light will also display the status of the device connectivity and data transfer. brilliant idea. as long you wear your watch everywhere, your data will be with you anywhere go.
the USB memory watch uses USB 2.0 and works with Windows 98/ME/2000/XP, Linus 2.4 or higher and Mac OS 8.6 or higher. you can't really do your James Bond thing because this watch isn't water proof – which Mr Bond certainly will, at some point in time, expose to water. but it's shock and static-proof though. this analog watch runs on Japanese movement.
SpyNet Mission Video Watch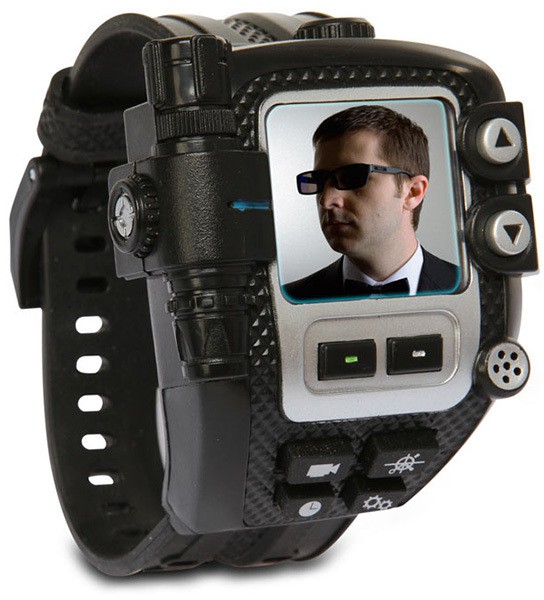 (photo credit: thinkgeek.com)
just the name of the watch speaks of high-tech gadgetry. this toy-like watch may not be the classy Omega watch that cuts though steel in James Bond movie, but does have quite a package packed in it. the watch doubles up as a audio recorder, a video recorder, a still picture camera and you guess it, it tells time too.
it can record up to 4 hours of audio, 20 mins of video and capture up to 2000 pics. aside from telling time and standard features of a watch, it has a "super-spy mode" where the screen face becomes blank during audio recording, video recording and image capturing. awesome, so pass-by won't have any idea what you're up to.
snap on the Snake Cam add-on (optional) and it allows you do the record video/take pics around corners or hide it in a button hole for super convert. the Snake Cam also double up as a plug & play USB webcam. cool. we would gladly bestow this the spy-gadget of the year after year after year…
Casio Classic Calculator Watch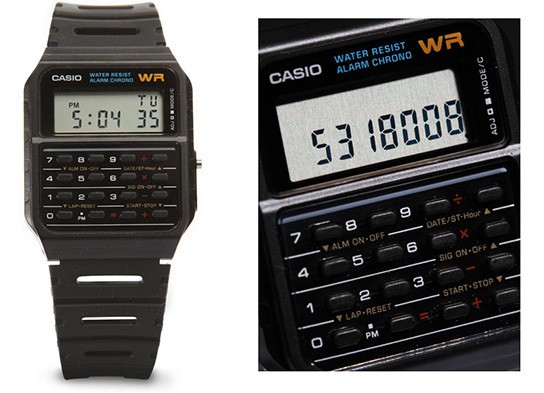 (photo credit: thinkgeek.com)
this wrist time teller has a second function that spy probably won't be needing. one look, we all know what it does. its part time job is a calculator. no prize for guessing it right. i have one myself, but somehow it doesn't feel like one that i used back in the late 70s. perhaps, my fingers have grew fatter?
these days, most mobile phones already have calculator therefore it kind of render this watch obsolete. however, if whipping out your phone to make some calculations is too much effort for you, this watch could be the answer. the watch features a built-in 8-digit calculator with touch pad, splash resistant (read: don't let it go under the water), stop watch functions, single and dual time modes, alarm.
maybe this watch is more suitable for compulsive accountant. i just wish they'd make it bigger. however, if retro is what you are after, this watch might just fit the bill and calculate your bill at the same time…
Happy Hour Bottle Opener Watch



(photo credit: thinkgeek.com)
this watch ain't exactly high-tech to the majority of us but if you're an ultimate geek-cum-beer-fan, this could be the gadget to die for. on the first look, this is just another beautifully designed watch but at the end of the smooth calf leather band is a patented bottle opening buckle. yes, you heard right. its part-time duty is to assist you in opening bottles.
the watch features a stainless steel case, nickel plated hands with mineral crystal cover, and applied indices. the watch uses the Citizen 2035 movement and is water resistant to 5 ATM. slap this watch on your wrist, hit the nearest pub after your geeky work and you can start wrist-flicking those top caps of the booze bottles. arghhh… the wonder of innovations.