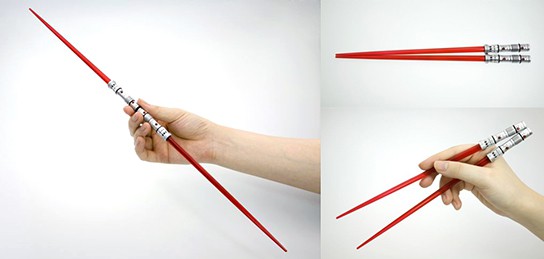 (photo source: store.kotous.com)
yet another item from the ever popular Star Wars franchise. following up to the popular Lightsaber Chopsticks series (remember Darth Vader, Luke Skywalker and Yoda Lightsaber Chopsticks?), Kotobukiya introduces the 2nd series which has 2 sets: the Darth Maul & Luke Skywalker Lightsaber Chopsticks set and the Darth Maul & Mace Windu's Lightsaber Chopsticks set. with Lightsaber you can eat your sushi in the Jedi way while defending the galaxy from the rebel forces or the Imperial troopers – depending on which sides you chose.
the chopsticks' lightsaber blades are casted in translucent material and measures 9 inches long. the Darth Maul chopsticks comes with a special bonus connector which lets you convert the Darth Maul chopsticks into a doubled-bladed lightsaber, just like in the movie. i'm not sure what you going to do with the chopsticks when you do that. each chopsticks include a translucent Star Wars logo chopsticks rest. may the force be with you (when are eating your sushi)…
the new Star Wars Lightsaber Chopsticks set will be available in November @ US$19.90 a set.
check it out @ KotoUS.